Abducted person rescued, one suspected apprehended
Tikaram Rizal of Kalapahar Bazaar under Kangpokpi Police Station was abducted on February 16 evening at around 8 pm by unknown armed miscreants.
---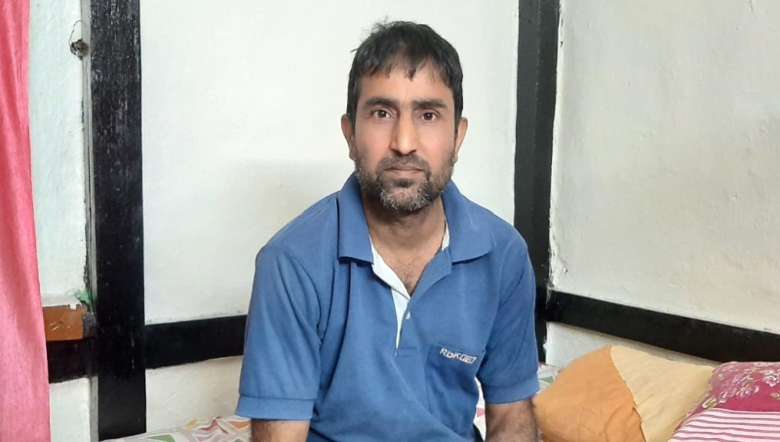 Tikaram Rizal (PHOTO: IFP)
---
One resident of Kalapahar, who was abducted, has been rescued safe and sound while the suspected individual in the kidnapping case has been apprehended.
The 49-year-old Tikaram Rizal of Kalapahar Bazaar under Kangpokpi Police Station was abducted on February 16 evening at around 8 pm by unknown armed miscreants demanding a ransom amount of Rs 20 lakh. He is a van driver who regularly delivers goods for their own grocery shop at Kalapahar bazaar.
A joint action committee was immediately formed vocalising for the safe release of Tikaram. The residents of Kalapahar had also imposed a lightning bandh along National Highway-2 at Kalapahar on Thursday demanding safe release of Tikaram and arrest of the culprits.
Speaking to the media persons at Kalapahar, convener of the JAC, Vigyan Koirala said that after prolonged efforts of the security forces involving 38 Assam Rifles, Manipur police and commandos, the abducted Tikaram Rizal could be rescued on Friday morning after a thorough combing operation was done.
The JAC convenor conveyed his sincere appreciation to IGP Lunseh Kipgen; ADGP Ashutosh Sinha; SP of Kangpokpi, PG Singsit; OC of Kangpokpi, Maibam Khogen; CO of 38 Assam Rifles, Col Hemchand Singh; and the District Administration of Kangpokpi for their humanitarian and tireless efforts. He also appreciated and expressed profound gratitude to all civil voluntary organisations of the Kuki and Gorkha community for their vital role in rescuing the abducted person.
The JAC urged the state government and authority concerned to nab the culprits at the earliest and give befitting punishment.
Narrating his ordeal, Tikaram Rizal, son of Bhanu Bhakta Rizal said, "three unknown face-masked men came to my residence on February 16 evening and inquired about the whereabouts of my brother-in-law Gopilal Chauhan. When they could not find him, they blindfolded me and took me after tying my hands."
"The kidnappers who possessed small arms were talking in Kuki dialect but communicated me in Manipuri. They told me that earlier they went to my sister's shop and put a monetary demand verbally but my brother-in-law insisted they give the demand in their letterhead if they are a genuine organisation," he narrated.
He continued that they (the kidnappers) asked for Rs 20 lakh but he responded that it is not possible.
"I was first kept in an abandoned house and later shifted in a hut. I was not tortured or harassed, however I did not eat anything until I reached home this morning," Tikaram said.
Inspector Khogen has confirmed the apprehension of one person suspected to be part of the kidnapping but denied to comment on the matter as the person is yet to be handed over to the police and interrogation of Tikaram is still pending.
The All Manipur Gorkha Students' Union conveyed its sincere gratitude to all the security forces and civil voluntary organisations involved in the safe rescue of the abducted person.
First Published:
Feb. 19, 2021, 11:37 p.m.