Support grows for Meira Paibis
The meira paibi groups have been raising demands concerning the issue of drugs menace in Manipur.
---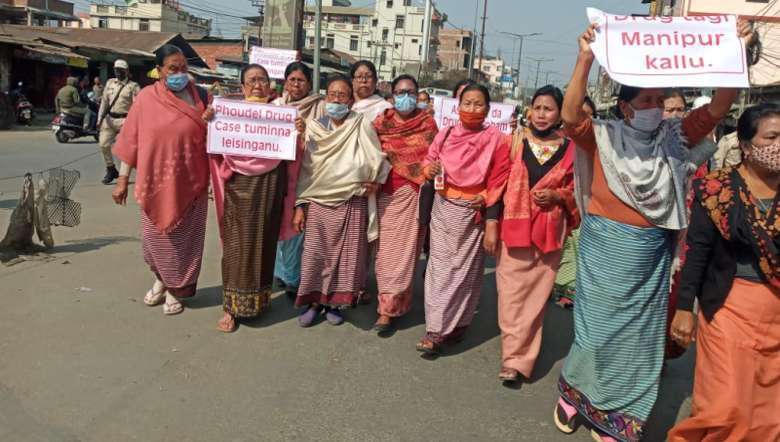 (PHOTO: IFP)
---
The civil organisation 3.5 Collective on Friday stated that it stands in solidarity with hundreds of Meira Paibi who peacefully marched towards the Manipur Legislative Assembly on Thursday. They demanded that the ongoing budget session of the assembly should discuss the critical issue of drug menace in Manipur.
"We are also concerned about the safety and security of the 71 Meira Paibi elderly leaders who were court arrested by the Manipur Police for leading the peaceful march," a release stated.  
It may be mentioned that hundreds of peaceful sit-in protests have been organised throughout the length and breadth of Manipur by the grass-root Meira Paibi groups, the release stated. Some of them have even faced police brutality for daring to demand justice and their cases have been registered in Manipur Human Rights Commission, it mentioned. The meira paibi groups have been raising demands concerning the issue of drugs menace in the state, it added.
Despite the verbal assurances made by the MLAs belonging to both in the ruling as well as opposition parties during their one-to-one meeting, none of them have raised the issue of drugs so far in the ongoing assembly session, it stated.
With only two days left for the session to conclude, the Meira Paibi are visibly angry by the indolence of the elected representatives of the people to address the crucial issue of the people on the floor of the assembly, it further stated. The organisation, in solidarity with the Meira Paibis, strongly demand that all the MLAs should do whatever is necessary to ensure that Manipur is saved from the clutches of the invisible, yet highly powerful drug cartels, and prevent it from becoming the next Golden Triangle, it added
First Published:
Feb. 19, 2021, 11:32 p.m.