Youths hold protest rally, demand immediate cut in prices of essential goods in Manipur
Youths in Manipur demanded urgent intervention by the government and submitted a memorandum to Governor Najma Heptulla against price hike
---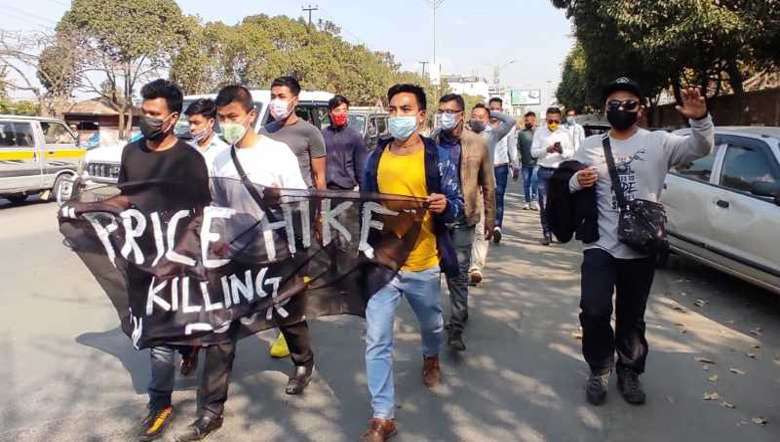 (Photo: IFP)
---
Several young people in Manipur took to the streets in protest against hike in prices of essential commodities in the state and demanded urgent intervention by the government, saying price hike is killing the poor. They submitted a memorandum to Manipur Governor Najma Heptulla, with the demand to address the plight of poor people in the state.
Strongly protesting against price hike in essential commodities, especially petroleum products, the youths held a rally in Imphal on Thursday. They demanded immediate cut in prices of petroleum products and other essential commodities.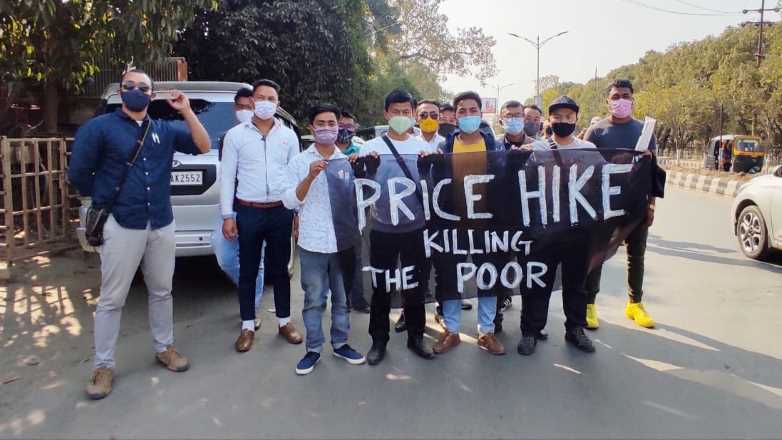 The protesters included members of the Youth's Forum for Protection of Human Rights; Youth's Action Committee for Protection of Indigenous People's; Young People for Social Reform; Khangabok Development and Student's Union; Chandonpokpi Youth Forum and the Sunushiphai Youth Welfare Association.
Youth's Forum for Protection of Human Rights secretary T Shadishkanta said that since the economic activities in the state were halted due to the COVID-19 lockdown that began in March 2020, the majority of the masses have been struggling to meet their daily needs.
The steps taken up by the Government of India to increase the prices of essential commodities to recover the lost economy from the poor section of people is unfortunate and is a violation of right to life guaranteed under Article 21 of the Indian Constitution, he said.
Owing to the hike in fuel prices, the fare of public transportation has also increased. This in turn is causing difficulties for students and many other commuters who are unable to afford the transport fare. Many people who are dependent on public transport suffer hugely as they have to bear double the price in every interval to reach their destination, he added.
The main reason for the price hike of essential commodities is the increase in transportation charges amid the soaring prices of petroleum products, Shadishkanta said.
Therefore, the protest rally was held against the price hike and a memorandum submitted to the governor to draw attention to the sufferings of the poor people in the state and their right to life, he said.
They youth demand immediate cut in prices of essential commodities, including prices of petroleum products, he added.
First Published:
Feb. 19, 2021, 6:31 p.m.