Manipur journalists protest bomb attack on media house, demand 'unconditional apology' from attackers
The media fraternity in Manipur staged a sit-in protest at Keishampat Leimajam Leikai, Imphal, Manipur on Sunday.
---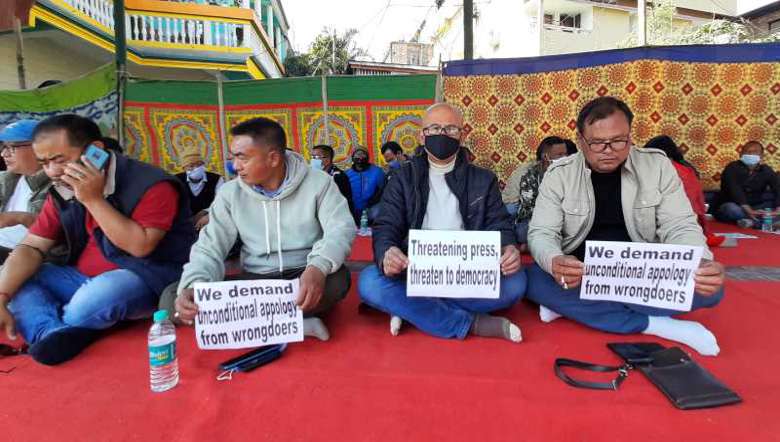 (Photo: IFP)
---
Condemning the bomb attack at the office of a local daily Poknapham on Saturday evening, media fraternity in the state staged a sit-in protest at Keishampat Leimajam Leikai, Imphal, Manipur on Sunday.
Members of Editors Guild Manipur (EGM) and the All Manipur Working Journalists Union (AMWJU) and acting chairperson of the Manipur Human Rights Commission also took part in the sit-in protest.
While the culprits are yet to own up responsibility for the attack, the protesting media fraternity held a peaceful protest and demanded "unconditional apology from the wrongdoers".
Holding placards highlighting their protest, the media persons said, "Threatening the press is an act of threatening democracy".
Meanwhile, the Indian Journalist Union (IJU) on Sunday expressed solidarity to the protesting Manipur media fraternity and condemned the attack.
In a statement, IJU president and former member of Press Council of India Geetartha Pathak and vice-president of International Federation of Journalists and IJU secretary general Sabina Inderjit expressed grave concern at the frequent attacks on media houses and journalists of the state.
IJU leaders demanded the state government to investigate the incident of bomb attack and bring the culprits to book. IJU also urged the state government to ensure safety and security of journalists and media houses of Manipur.
In an attack on the media house on Saturday evening, unidentified persons hurled a hand grenade inside the office of Poknapham daily and its sister publication People's Chronicles. The office is situated at Keishampat, Imphal. No damage was caused as the grenade failed to explode, the media house said.
Strongly condemning the "cowardly attack", the Editors Guild Manipur and the All Manipur Working Journalist Union (AMWJU) resolved in an emergency meeting to immediately halt all news publications, including electronic media, as a mark of protest.
The meeting also decided to hold protest followed by a meeting on Sunday to decide on further course of action to be taken against such attacks on media.
Editor of Poknapham, A Robindro Sharma, condemning the bomb attack in the strongest term, said on Saturday the paper has not received any kind of threat or warning from any individual or group during the past days.
Sharma appealed to the person or group responsible to not repeat such a life threatening act. He also asked the person or group responsible for the act to provide clarification regarding the incident.
ALSO READ
First Published:
Feb. 14, 2021, 3:06 p.m.