NPF is only party that gives hope to people: Shurhozelie Liezietsu
Shurhozelie urged the party workers and intending candidates to honour the decision given by the party's selection board and support the official candidate in the upcoming ADC election.
---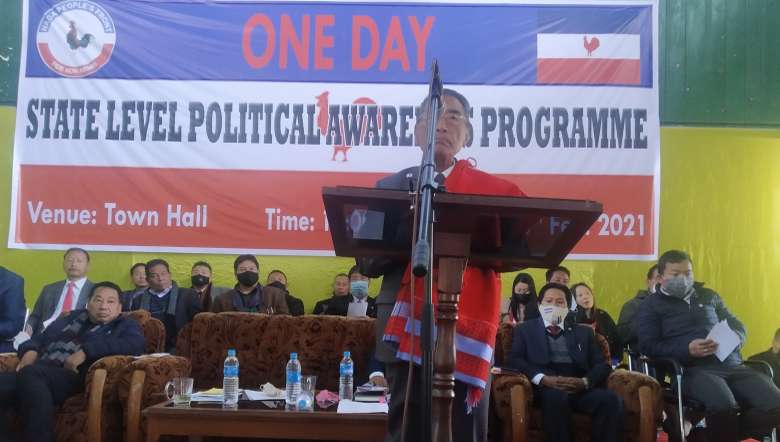 (PHOTO: IFP)
---
Stating that the ensuing Autonomous District Councils elections hold a great significance for the NPF party, visiting president of NPF central office, Kohima Shurhozelie Liezietsu advised the party aspiring candidates to perform well as the success in this election will determine next general election results.
The former chief minister of Nagaland and also the president of NPF was speaking at the One-Day State Level Political Awareness Programme of NPF party held at Ukhrul town hall on Saturday. 
"NPF is a party which represents your identity. A person's sans identity is a lost man. At this crucial moment NPF is the only party that can give you hope," Shurhozelie exerted.
Meanwhile, informing the party workers and intending candidates to prepare for the upcoming ADC elections which will take place soon, Shurhozelie urged them to honour the decision given by the party's selection board and support the official candidate. 
Addressing the massive crowd, MLA of Chingai assembly constituency Khashim Vashum assured the party workers and well-wishers that NPF will win an absolute majority in the ensuing ADCs elections in Ukhrul district. 
Speaking at the occasion, PHED Minister L Dikho lauded the leadership of Chief Minister N Biren and said that BJP is the best partner that acknowledges the work of the party.
"Manipur is fast growing under a BJP led coalition government. The longest bridge in the world is coming up in Manipur in addition to other substantial developments including National Sports University and hospitals," Dikho said while pointing out the relationship NPF shares with BJP and the development the party has brought in the state. 
The day-long programme was attended by Forest and Environment Minister Awonbou Neumai, who was also president of NPF MSU; working president of NPF Central Office, Kohima, Thenucho Tunyi; chairman of HAC, K Leishiyo; secretary general of NPF Central Office, Achumbemo Kikon; party workers, well-wishers and intending candidates of NPF.
The programme ended with a prayer pronounced by pastor of Hungpung Baptist Church, Rev PS Sword.
First Published:
Feb. 13, 2021, 10:56 p.m.