Manipuris like their fish
IFP Editorial: Whether CM Biren has been able to fulfil his promise of self-sufficiency in fish production or not is another matter. What matters is his endeavour to upscale fish production in the state, where fish is a staple diet.
---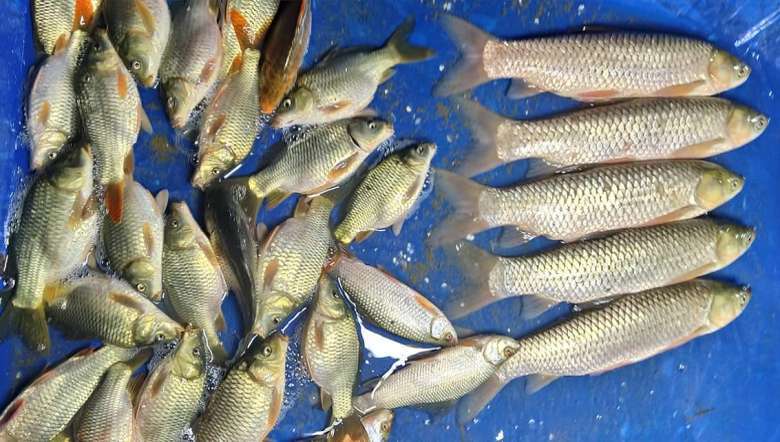 (PHOTO: Facebook)
---
Manipur Chief Minister N Biren Singh had promised in June, 2018 that the state would be self-sufficient in fish production by 2020. Annually, the state requirement of fish for consumption is about 52,000 metric tons while only about 32,000 metric tons are being produced by the fish farmers in the state annually. In his push for increasing production, the chief minister ordered reclaiming of vast stretches of swamps around the Loktak Lake for different forms of captive breeding of fish through the State Livelihood Mission and also opening of fish feed factories to cater to the needs of fish farmers of the state, who have had to buy feed brought from outside the state at a higher price.
Whether the chief minister has been able to fulfil his promise of self-sufficiency in fish production or not is another matter. What matters is his endeavour to upscale fish production in the state, where fish is a staple diet. It needs to be appreciated. Yet, he must also take into consideration that Manipuris are also very choosy in terms of the kind of fish they like to eat. It was not by choice that they are now eating the Indian carps whether imported or locally produced, but because indigenous fish varieties have become extremely scarce. Indigenous varieties like Pengba, Ngaton and Khabak have completely disappeared from the riverine system of Manipur and Loktak Lake. Of course, some entrepreneurs have started captive breeding of these delicacies in fish farms and it is reaching the market during Chieraoba or Ningol Chakkouba festivals.
Well, what caused these indigenous fish varieties to disappear? Scientists at Manipur University and Zoological Survey of India blame changes in the hydrology due to the construction of dams, blockage of migratory routes, drying up of wetlands from siltation, eutrophication and water quality deterioration, and overexploitation for declining indigenous fish diversity in the lake. Here in the state, the culprit is the infamous Ithai Barrage. It was constructed in 1983 to elevate the water level of the Loktak Lake for the Loktak Hydroelectric Project. But it led to the destruction of this unique wetland ecosystem, permanently flooding over 83,000 hectares of farmland and pastures around the wetland, resulting in the loss of livelihoods and severely impacting the wetland's biodiversity including indigenous fish varieties and vanishing of the age-old culture of the people living in and around the lake. As many as 16 species of indigenous fish are believed to have become extinct due to the blocking of water by the Ithai barrage. For example, Pengba is the state fish of Manipur and is reported to be regionally extinct in the wild due to obstruction of its migratory route from Myanmar on account of the Ithai barrage. It is now mainly sourced from fish farms and is a prized delicacy both for its protein as well as for the price it fetches. In festive seasons, it can sell for as much as Rs 800 per kg.
The Loktak Lake, a breeding ground of indigenous fish, contributed 60 per cent of the total fish production of the state of which migratory fish from Chindwin-Irrawaddy system formed 40 per cent of the capture fisheries. In 2004, the lake was reported to fetch the state only about 11 per cent of the fish. Before the construction of the barrage, minor carps besides Pengba used to migrate from Chindwin-Irrawaddy river system of Myanmar to Manipur River and Loktak Lake upstream for breeding and spawning.
And as such, new varieties mainly Indian carp varieties including Grass Carp came into the picture. These newly introduced fish varieties are also prolific breeders, expanding their population significantly while the population of native fish was not able to compete with the new arrivals. Such is the condition that native species are fighting a losing battle in their own habitat, and now the lake is dominated by the exotic carps. It has been reported that an old project to facilitate the movement of Hilsa upstream along the Ganga to its spawning grounds of yore by redesigning the navigation lock at the Farrakka Barrage may come to fruition this year. Even as demands for decommissioning of the Ithai Barrage is being considered, it will take many more years to achieve this. So, a same type of fish pass at Ithai Barrage is worth considering.
READ MORE:
First Published:
Feb. 13, 2021, 12:50 a.m.