Imphal East Commando rescue three labourers from suspected militants
Manipur CM N Biren Singh rewarded Rs 10 lakh to the commando team.
---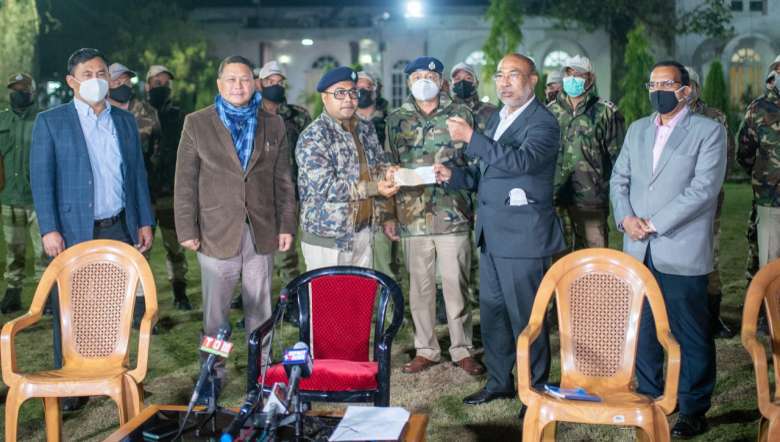 CM Biren hands over reward to additional superintendent of police (Ops) Roni Mayengbam (PHOTO: IFP)
---
A team of district commando, Imphal East was on Friday rewarded Rs 10 lakh by the chief minister at his office secretariat located at Babupara, Imphal for rescuing three abducted individuals from the hands of suspected Kuki militants. The three persons were rescued on Thursday from a spot in Kangpokpi district where the commando team got into a gun battle with the suspected militants.  
Police reported that they received information on Thursday at about 11.30 am that three construction workers had been kidnapped by some armed miscreants suspected to be Kuki militants on Sunday.
The three labourers are one Yumnam Sushilkumar alias Nanao, 30, son of Y Irabot of Thoubal Athokpam Makha Leikai (caretaker) and Laishram Devachandra Singh, 50, son of late L Tomba of Khangabok Mamang Leikai (head meson) and Ngangbam Gunadhar, 55, son of N Nabakumar of Kanglasiphai.
They have been engaged in the construction of a bridge at Leikhong near Nongpok Keithelmanbi under Thoubal Dam police station in Thoubal district.
In connection with the abduction, a complaint was registered at Thoubal Dam police station under FIR number 3(2)2021 TBL DAM PS U/S 400/363/365/34 IPC and 25(1-C) Arms Act.
A team of district commando, Imphal East under the supervision of superintendent of police Jogeshchandra Haobijam led by its additional superintendent of police (Ops) Roni Mayengbam, deputy superintendent of police (CDO), Imphal East Kh Herojit and under the command of officer-in-charge CDO, Imphal East Kh Henery and its district commando 2nd officer-in-charge, Rajib assisted by a team of special commandos and Thoubal Dam police station launched an intensive search operation in Keihao, Henjang, Kamuching forest hill range area on Thursday.
The search operation resumed early Friday morning. At about 5 am, some armed militants started to open fire at the police team at the hill range between old Boljang and New Boljang in Kangpokpi district. The police team also fired several rounds at the armed militants and the battle continued for about two hours.
As the police pushed forward, the armed militants fled by taking the advantage of the dense forest, leaving behind the three persons who were rescued by the police team.
On verification, the rescued persons said that they were abducted by the armed militants in connection with monetary demands.
One AK-56 rifle along with some empty cases was seized from the hideout area suspected to be used by the armed militants.
Later in the late evening, Chief Minister N Biren Singh rewarded a sum of Rs 10 lakh to additional superintendent of police (Ops) Roni Mayengbam as bravery award during a press conference held at the chief minister's office secretariat located at Babupara.
Speaking to the media, Biren said a commendation award will be given for each police personnel who were involved during the rescue.
By the exceptional courage shown by the district commandos, the three kidnapped persons were rescued, he said. "The state government will never compromise against any enemy or terrorist and will be a friend for the public," he said. The government is on the hunt for the suspected  militants and they will be booked immediately, Biren said.
First Published:
Feb. 12, 2021, 11:58 p.m.