SSU, YUFC, ESU reach last 16 stages of Shaheed Manoranjan Football Tournament
SSU Singjamei entered the last 16 stages beating NESU Khurai by 3-0 goals.
---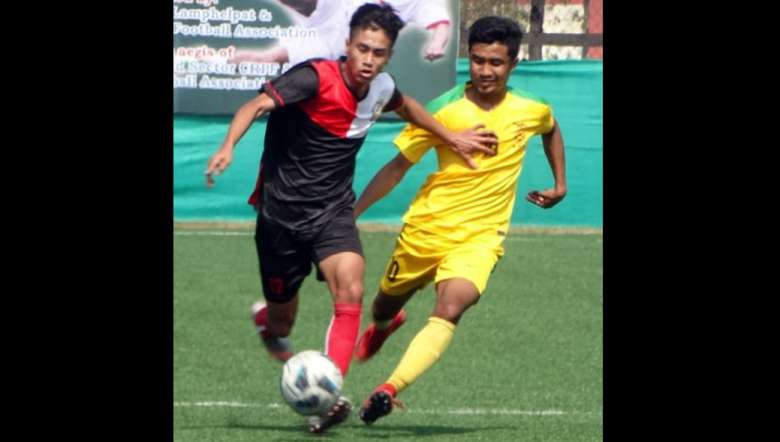 (PHOTO: IFP)
---
SSU Singjamei entered the last 16 stages beating NESU Khurai by 3-0 goals in the 11th Shaheed Manoranjan Singh Memorial CRPF Football Tournament 2021 played at SAI Ground, Takyepat on Thursday.

SSU Singjamei took the game in cool stride and made the strike in the 28th minute when Th Premjit Singh found the net to bring up the opening goal. NESU found it hard to penetrate the danger zone of its opponent, and SSU lurking for loose ends and got it right when M Kabiraj Sharma fetched the second goal in the added time of 45 plus 1 minute to post 2-0 goals.

Downed by two goals, NESU seemed to resign to their fate and seizing the opportunity, SSU made inroads and got the third goal from Sushilkumar in the 75th minute of play for the victory. SSU player Chitaranjan and NESU player Priyo Singh got a yellow card in the match.

In the other matches, YUFC Ukhrul beat YUC Irom Meijrao by 5-4 goals to enter the pre quarter during kicks from penalty mark after both teams were tied with 1-1 goals in normal time.

Both teams struck late in the match with Peimingam fetching the opening goal for YUFC team in 80th minute and later, Topper fetched the equaliser just in the nick of time of 80 plus 4 minute.
The kicks from penalty mark saw Peimingam, Blesising, Kagaly, Yami hitting to perfection for YUFC while for the YUC team, Topper, Thoi and Suraj managed to put in their goals.

ESU Wangkhei also made it to the last sixteen stages of the tournament beating FC Lamjao by 4-1 goals. Thumson Tongsin struck twice for the ESU team while teammates H Sanajaoba and Sh Rajdan fetched one goal each. The lone goal for FC Lamjao was scored by Yaiphaba. ESU player Sh Rajdan and FC Lamjao players Jurensan, Bishonath, L Borish got a yellow card from referee Sh Suresh.
First Published:
Feb. 12, 2021, 1:03 a.m.