House passes six demands amounting to Rs 2,630 crore
The demands included grants for – Labour and Employment, Department of Tribal Affairs and Hill Development; Environment and Forest; Power; Sericulture and Information Technology.
---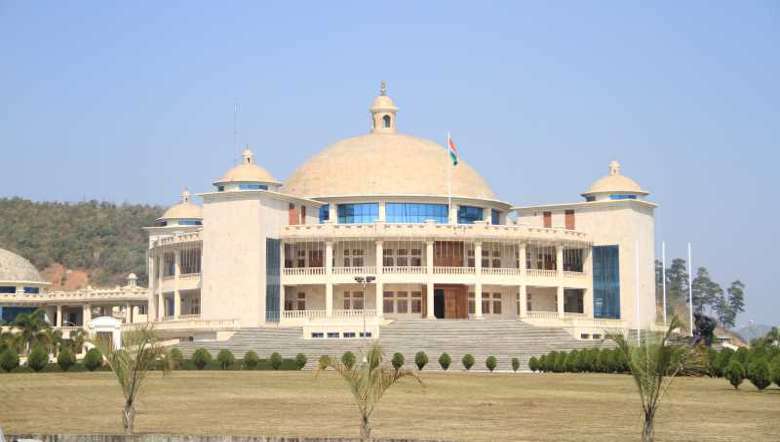 Manipur Assembly Building (Photo: IFP)
---
On the sixth day of the ongoing 12th session of the 11th Manipur Legislative Assembly, the House on Wednesday passed six demands amounting to Rs 2,630,03,60,000 during the afternoon session. The demands included – Labour and Employment for Rs 373,79,46,000; Department of Tribal Affairs and Hill Development for Rs 802,14,09,000; Environment and Forest for Rs 710,99,53,000; Power for Rs 547,35,69,000; Sericulture for Rs 45,98,74,000 and Information Technology for Rs 149,76,09,000.
Clarifying on Demand No. 13 – Labour and Employment, Leader of the House and Chief Minister Shri N. Biren Singh informed the House that the returnees who have decided to stay back in the State in wake of the COVID pandemic can apply for loan along with grants to the Planning Department for 'Standup', 'Startup'. Stating that there is a budget provision of Rs 45 crore, he informed that interested returnee can apply as an individual or in group along with their plans to the Planning Department. Further, he said there is an ongoing discussion for increasing the budget in the district level to set up 100 shops for self employment.
Labour and Employment minister Thokchom Satyabrata Singh clarified that the Labour Board has been reconstituted on August 2020 and is functioning smoothly as expected. He informed that the Government is trying its level best to update and upgrade ITIs in the State. He further said that the Government is planning to provide training to unskilled returnees (who have returned back home during COVID pandemic).
Acknowledging the contributions of late Major Bob Khathing - a soldier, civil servant and diplomat, N. Biren Singh today informed that Rs 3 crore has been allotted to the Arts and Culture Department for revamping Major Bob Khathing Museum and Library. He also informed the House that the chief minister of Arunachal Pradesh Pema Khandu has shown keen interest in attending the inauguration of Major Bob Khathing Museum and Library as a tribute and in honour of his contribution.
Regarding the Demand No. 50 – Information Technology, N Biren Singh said that the Government will install Jio or Airtel mobile tower for strengthening network connections in far flung areas like Dzuko valley and Behiang. Stating that the  Government is still providing free internet services in Paona Bazar, Thangal Bazar, New Secretariat, RIMS and JNIMS, he said that the e-office and e-filing has already begun along with the strengthening of e-district project.
Power minister hongam Biswajit Singh clarifying on Demand No. 23 said that street lamps along the stretch of RIMS Road will be installed at the earliest. He informed that location has been selected for installing 64 LED High Mass Light, out of which 20 lights will be installed in the first week of April and another 44 in September 2021. Tender for repairing and replacement of old street lights will begin very soon. For wind, solar power project 14 areas have been selected and DPR has been already prepared for Phundrei and Leimaton. For the remaining sites, another survey will be conducted. He informed that 1587 villages out of 2582 have been electrified with off grid and grid. Stating that per capita energy consumption is increasing annually in the State, he said the energy consumption was 347 KW in 2017-2018, 371 KW in 2018-2019 and 385 KW in 2019-2020.
Speaking on frequent power cut issue, he said that for uninterrupted power supply there is a need for replacement/strengthening of the old system. He said in order to provide quality supply and to replace old system in the State, a tender will be issued by September end this year. He said the Power Department has procured 10,000 pre-paid meters out of which 3,000 have been reserved for Hill areas and the department has ordered another 2 lakh pre-paid meters in order to change the defect meters and for new installation purpose.
Awangbow Newmai, Minister Forest, Environment and Climate Change informed that Manipur has at present 75.46 percent forest area cover as compared to the benchmark of 68 percent set under the National Forest Policy. He said Manipur is top state in the country in implementing the Pradhan Mantri Van Dhan Yojana launched by chief minister in the state. He said while setting up eco-park planting of indigenous plant species will be given top priority. Stating that as per the guidelines 3 Forest Guards should manned within 1 sq km area but in our State a Forest Guard is managing an area of 24 sq km, he said that the Forest Department despite shortage of staff is trying to check various issues and taking timely help of the State Police and Paramilitary forces.
He opined that there is requirement to provide alternative livelihood to completely stop the Jhum cultivation. He said as deforestation is a global concern, support and cooperation of all is necessary to preserve and conserve the forest. He said that there is a total reserve forest area of 946.97 sq km comprising Hill and Valley. He said after completion of road construction/repairing work plants will be planted along the road side under the Road Side Plantation Policy. He informed the House that regarding illegal earth-digging 34 cases have been filed, 13 cases disposed and 21 remaining are under investigation. He said Rs 5.86 crore have been collected as penalty, 8 JCBs and 22 trucks have been seized for illegal earth digging.
Observations on Demand No. 19 – Environment and Forest was given by L Radhakishore Singh, MLA Oinam of A/C, P Brojen, MLA Wanging Tentha of A/C, P Saratchandra Singh, MLA of Moirang A/C and Mayanglambam Rameshwor, MLA of Kakching A/C. Policy Cut was moved by Kh Joykisan Singh, Surjakumar Okram, KRanjit Singh, K Meghachandra Singh, Alfred Kanngam Arthur, D Korungthang and Th Lokeshwor Singh.
The House today also passed four bills namely – The Manipur Goods and Services Tax (Third Amendment) Bill, 2021 (Bill No.13 of 2021); The Manipur Fiscal Responsibility and Budget Management (Second Amendment) Bill, 2021 (Bill No.14 of 2021); The Asian International University, Manipur Bill, 2021 (Bill No.1 of 2021) and The Manipur Private Universities Bill, 2021 (Bill No.2 of 2021). The Speaker referred The Manipur Agricultural Produce and Livestock Marketing (Promotion and Facilitation) Bill, 2021 (Bill No.5 of 202) to the Hill Area Committee
 
First Published:
Feb. 11, 2021, 9:47 a.m.