Politics in highway alignment
IFP Editorial: With the coming of Trans Asian Highway 1, a new politics over alignment of the four lane highway has come up.
---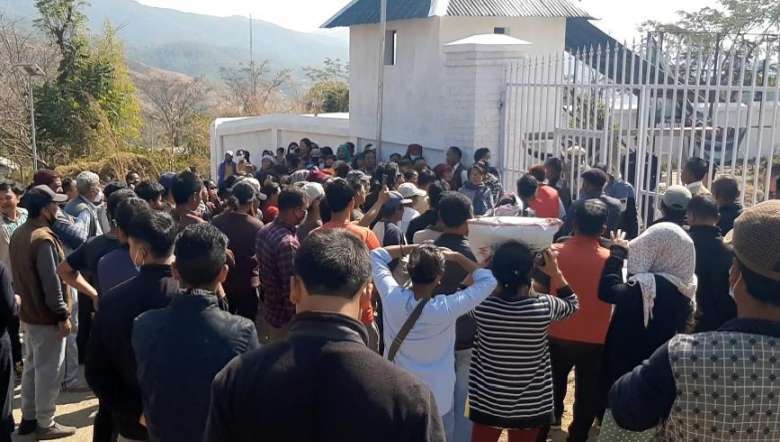 Locals storm Kangpokpi DC office over Bypass row, February 11, 2021 (PHOTO: IFP)
---
Previously the National Highways of Manipur have been a rallying point for politics by certain communities doting these national highways. Ethnic based CSOs and various UGs unofficially divide stretches of the highway as their areas of control through which the various groups push their political agenda and varied demands. Manipur being a land-locked state highly depends on the highways for ferrying in food and all other goods, including essential items, which is exactly why passage on these highways have always been a bargaining chip for groups who have an axe to grind with the state authorities or holding it to ransom for realisation of their demands howsoever petty it be sometimes. With a pro-active government in place now, incidents of highway blockades have been reduced to a minimum in recent times. But with the coming of Trans Asian Highway 1, a new politics over alignment of the four lane highway has come up.
A basic requirement in developing a four-lane highway is to bypass densely populated towns or cities in order to ensure smooth and swift passage of heavy vehicles plying long distance. Therein lies the necessity of a Bypass in Kangpokpi area in order to avoid traffic congestion in Kangpokpi town. It is not only in Kangpokpi, but such bypasses are bound to come up near Senapati HQs and Mao town also. There should have been no room for controversy in matters of route alignment of the Bypass, as it is purely a technical issue from the engineering point of view. So, it is rather strange that an ethnic twist has come into the picture. Somewhere, someone must have erred in ignorance of the complex ethnic relations prevailing in the state which led to germination of the ethnic angle. There are reports of a previous alignment of the said Bypass which mostly passes through Naga villages.
The new alignment however, passes through mostly Kuki villages. While it is wrong to view the question of route alignment of the Bypass through the ethnic lens, it is equally important to tread carefully with an understanding of the complex situation in the state by implementing agencies. In Manipur, objectivity is a very scarce commodity and anything can happen if issues are not handled properly in the right perspective. What needs to be done now in right earnest by the state government and agencies handling implementation is to develop basic principles of routing the Bypass so as to avoid controversies.
As it turned out, a Joint Action Committee called a bandh on NH 2 protesting against the proposed alignment of the Kangpokpi Bypass and in a knee-jerk reaction the implementing agency National Highways Infrastructure Development Corporation Ltd (NHIDCL) backtracked on the proposal.
NHIDCL took a decision to completely drop the proposed Kangpokpi Bypass and instead develop the existing carriageway without any further expansion on both ends. Based on the decision of the agency, a Memorandum of Understanding (MOU) was signed between DC Kangpokpi and the agitators and the bandh was suspended. Thereafter, enraged locals of Kangpokpi district took out a mass protest rally against the dropping of Kangpokpi Bypass and stormed the office of the district deputy commissioner at Kangpokpi Headquarters. The protest rally was organised by the Joint Action Committee formed against the dropping of the Kangpokpi Bypass road and attended by different Kangpokpi based CSOs and chiefs of villages affected by the proposed Bypass from Gamgiphai to Taphou Kuki besides several others. The JAC demanded declaration of the MOU null and void or else a serious agitation would follow. If the proposed Bypass is dropped, the village chiefs stand to lose the proposed compensation they were entitled to.
ALSO READ:
First Published:
Feb. 11, 2021, 12:58 a.m.