No major adverse effects of COVID-19 vaccination reported so far, says Sapam Ranjan
Advisor to chief minister (Health), Dr Sapam Ranjan said on Wednesday that the COVID-19 vaccination drive is going on in almost 150 centres.
---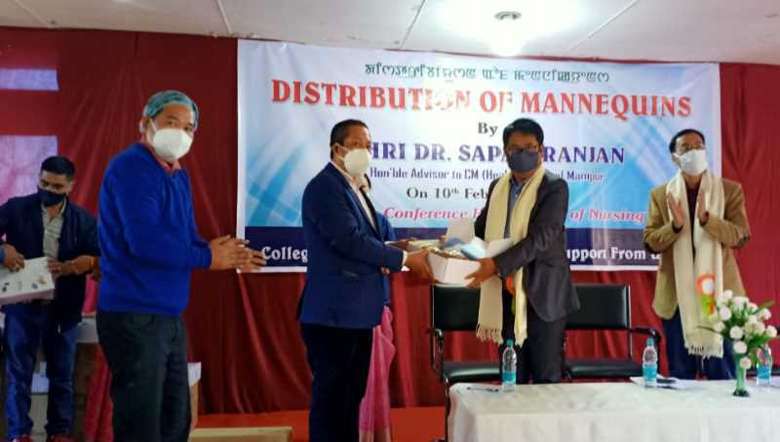 Concerning the present status of COVID-19 vaccination in the state, there are no reports of major adverse effects after COVID-19 vaccination so far which is a good sign of inoculation, advisor to chief minister (Health), Dr Sapam Ranjan said on Wednesday.
Dr Ranjan was speaking at the distribution ceremony of mannequins at Conference Hall, College of Nursing, Medical Directorate, Lamphelpat. The items were distributed under the sponsorship of the UN International Children's Emergency Fund (UNICEF) to enhance the skills of staff nurses and impart quality healthcare services.
The COVID-19 vaccination drive is still going on in almost 150 centres, Dr Sapam Ranjan said while speaking to the media on the sidelines of the occasion.  
After the first phase of vaccination for healthcare workers, around 10,000 frontline workers were vaccinated till yesterday, he said. There are no reports of anyone getting adverse effects from the vaccination till date, he added.
Attending the programme as the chief guest, Ranjan said that the government had given top priority on health in the recent budget by considering that it is the most important sector.
Considering the impacts given by the prevailing COVID-19 pandemic, the government is hoping to frame a data of people with non-communicable diseases, he said while adding such data would be helpful in various ways during an epidemic.
While appealing to nursing students to pursue their career with enthusiasm, he said that nurses from Manipur are usually preferred by private hospitals outside the state and the country. As such, the course provides a wider scope if it is pursued with interests, he said while further appealing to handle the patients with a human touch and compassion.
One of the staff of UNICEF, Arun Meitram said that items were distributed to reduce maternal and new-born mortality which can be prevented. The distribution aims to assess and build clinical skills by staff nurses on new clinical protocols and to get a hand hold support of performing life-saving skills on specially designed mannequins.
Altogether, 24 numbers of mannequins were distributed to six different institutions.
The programme was also attended by mission director, National Health Mission, Manipur Dr N Shyamjai Singh and principal, College of Nursing, medical directorate, Lamphelpat, associate professor N Nalinibala Devi as president and guest of honour respectively.
First Published:
Feb. 10, 2021, 8:18 p.m.