Urgent need for new RAS not IAS for speedy development of villages in India
All government schemes have failed to facilitate real change in rural environment as all such projects lack planning and clear vision of what future villages in India should be.
---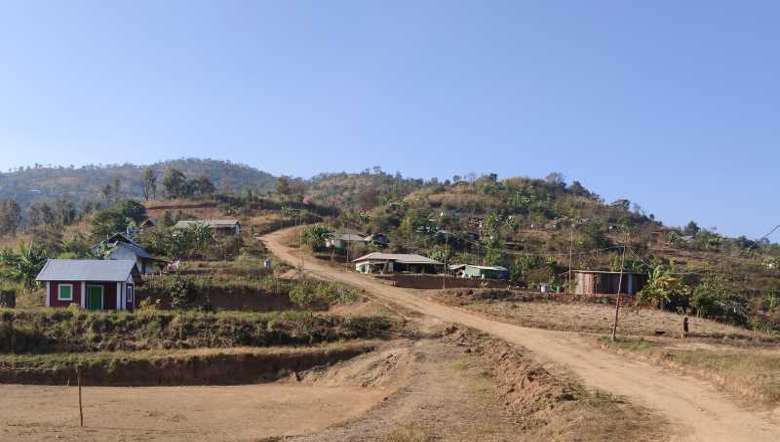 (Photo: IFP)
---
Rural India is in dire need of real change. There is no denying the need for speedy development in villages. There is also no denying the lack of clear vision for future villages of India. To usher in real change and speedy development, the New Year 2021 calls for basic change in priorities - a need to focus on a new approach to development of rural areas. The current farmers' agitation against the new agricultural laws has clearly pointed out the government's failure to understand the concerns of the large section of the rural population and their real need and aspirations. Rural India, perhaps, needs a new rural administrative system and not IAS.
Why government plans for rural India are unable to sustain development?
Over the years, various governments have spent large sum of money to improve the conditions in rural areas without creating any serious impact. Recently, Prime Minister Narendra Modi himself initiated a number of projects for rural improvement, including schemes for building pucca houses, providing a toilet in every rural home, training youths in craft skills in rural areas and a programme to provide jobs to migrant returning home.
However, all these schemes have failed to facilitate real change in the overall rural environment. This is partly because, all such projects have been arbitrarily implemented in bits and pieces and to a large extent because of lack of planning and clear vision of what our future villages should be. As a result, there has been minimal change and an overall condition remains abysmal.
Planning for villages cannot be done by politicians
Planning for the villages has to be implemented on a hands-on basis with a focus on the problems of each individual's village-something that cannot be done by politicians sitting in state capital or by bureaucrats who are not privy to rural issues and problems. This is one of the main reasons why large number of unskilled migrants who had lost their jobs, returned to their home after the COVID-19-induced lockdown was imposed and is now once again considering returning to the marginally better conditions of life in the city.
Need for professional involvement in planning future development
Each state needs to focus on the planned future development of its rural areas. This needs an organized framework for the preparation of plans as well as an administrative structure for the control of future growth.
Professional involvement is essential for the preparation of plans. Presently such matters are being handled by local politician in league with the administrators and this has disastrous implications. This is an issue that Niti-Aayog, the central body responsible for planning, needs to address. One of the major impediments to change in rural areas is the bureaucratic system that controls development.
The disastrous administrative system
Over the years, various politicians have commented on the government's administrative system and called for change, which has been strongly realized by IAS officials. The government's mode of functioning has not changed over time, noted that the IAS was set up in accordance with the British framework for governing India, which was based on distrust, a system which still prevailed.
Development administration was a specialized job. Presently any secretary is often posted to do work of which the person had little or no understanding. Specialist advice was neither sought nor respected. Secretaries were freely transferred from one department to another on their way up. An agriculture secretary may get transferred after two years to become an education secretary or secretary of Industry. This had all become a process of moving from one job to another, depending on political contact. The entire system had become one of control and power, regardless of the nature of work and needed to be changed.
Distrust of Indians led the British to form a highly centralized system of administration. As the demands for proper local administration had grown this system caused needless delays and interference. It would therefore be better to re-organize the entire bureaucratic system to make it more effective. Over the years, senior government officials also called for the administrative system to be re-organized, but other than the separation of control in one department and the other department, the basic system of the administration still remains the same.
Poor visualization of urban India
It is interesting that despite serious evaluations, the country remains stuck in a quagmire. It is also amazing that an organization like Niti-Aayog, on one hand acknowledges the importance of developing new technologies like solar and wind power and creation of large-scale power storage facilities with new chemical storage batteries and the need of an internet connection to each and every home is still so obtuse when it comes to visualizing future urban development.
With the return of large number of unskilled workers from cities to their homes in rural areas, the current situation requires a change of approach and the need to focus on the proper development of our large rural hinterland and small towns. This calls for the active involvement of professionals like architects, urban designer, landscape architects and environmental experts on an original basis.
Urgent need for trained professionals
To date, no plans have been prepared for the growth and development of our large number of villages and small towns. This now needs urgent attentions. It would be good, if the Niti-Aayog were to focus on these issues and help the government to set up a cadre of trained professionals responsible for the detailed development of rural areas in each and every state.
Currently the conditions in rural areas in large part of our country are abysmal. It is common to see picture of villages with houses crowded along narrow lanes with sewage and storm water flowing alongside. There is no open space or meeting areas other than those on the outer fringes of the village or in the residential courtyards. The schools and health centers are also developed in isolated pockets. The type and size of dwelling units are still largely based on the caste and traditional hierarchy of the occupants.
Change brought about by self-education as a result of increase in mobile phone users
Conditions however are not static. Change is being brought about despite conflicts on many issues. It is common now to see every young villager with a cell-phone. Those who are more confident and familiar with the use of computers with access to the internet are aware of events across the world. These changes are not because of schools or educational institutions but are the result of a process of self-education. Such motivated youths should be mobilized, trained and made aware of the need for rural improvement and development.
Haphazard developments and the real need
At present, there is no systematic planning of rural areas in states and virtually no site plans are available. In the absence of plans, a lot of development is currently occurring on a haphazard basis, without proper consideration of the suitability of the location of the facility involved. In order to prevent this kind of chaotic development, the system needs to be reestablished with proper plans prepared by experts and needs to establish a separate new Rural Administrative System/Service (RAS). In order to establish a separate new Rural Administrative System/ Service (RAS), the government will have to over-ride the resistance posed by IAS officials to the setting up of an independent service system. But such a change is now essential and urgently called for.
The present system where IAS officials are in control of the development of rural areas and who have no understanding of the specific issue and problems involved has proved to be ineffective. A cadre of officials specially trained to understand different aspect of rural issues along with a team of professionals responsible for future planning would help bring about a change and improvement of life in these areas.
(The views expressed is the writer's own. The writer can be reached to: sjugeshwor7@gmail.com)
First Published:
Feb. 8, 2021, 12:22 p.m.