Shops Allocation: Kakching municipal councillors seek MAHUD minister's intervention
Kakching Municipal Councillors accused assembly constituency MLA of interference in shops allocation
---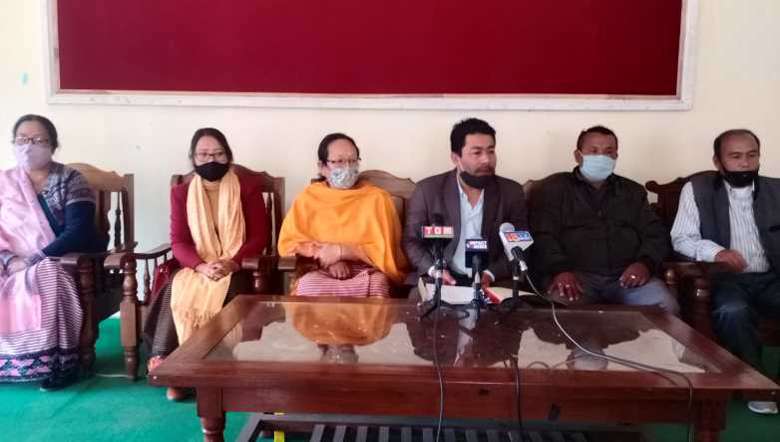 Kakching municipal councillors
---
Accusing Kakching Assembly constituency legislator M Rameshwar of interfering in the allotment of 20 shops to applicants through lottery, the Kakching Municipal Councillors has sought the intervention of the MAHUD minister and officials. Failing to address the issue may lead to intensified agitation, the councillors said.
For the welfare of the people of Kakching district, 20 shops were constructed in the Kakching Municipal areas. The construction works started in February 2020 and was completed in September 2020, Kakching Municipal Council N Sanjitkumar said while speaking to the media on Saturday in Imphal.
The municipal counsellors decided to conduct lottery for handing over the shops to the applicants without any biases. However, due to the COVID-19 pandemic the lottery was postponed for some period, he said.
Sanjitkumar said in view of the slowing down of the COVID pandemic, the counsellors have decided to conduct the lottery on February 6 after getting a green signal from MAHUD officials and has already started issuing lottery tickets to around 2,000 individuals.
Unfortunately, Kakching MLA Rameshwar objected to the lottery process and wrote to the MAHUD department to halt the lottery process, he added.
Asserting that the 20 shops are constructed in Wabagai Assembly constituency, former chairperson of Kakching Municipal Council M Inakhunbi questioned, "Why is the MLA of Kakching interfering in the work taken up in Wabagai Assembly constituency?"
"It is indeed injudicious that an MLA who stood second in the Assembly election is interfering in the works taken up by the counsellors in the interest of the public," she added.
Inakhunbi appealed to the authority concerned to intervene in the matter for conducting the lottery according to the schedule.
Failure to address the grievances of the counsellors and solve the issue may make the counsellors and their supporters to take up intensive forms of agitation, she cautioned.
First Published:
Feb. 6, 2021, 7:12 p.m.