Water harvesting pond to lessen farmers grievances: Th Radheshyam
The digging work of a rainwater and ground water harvesting pond began at Heirok part- III Inamung Kangthak area on Saturday.
---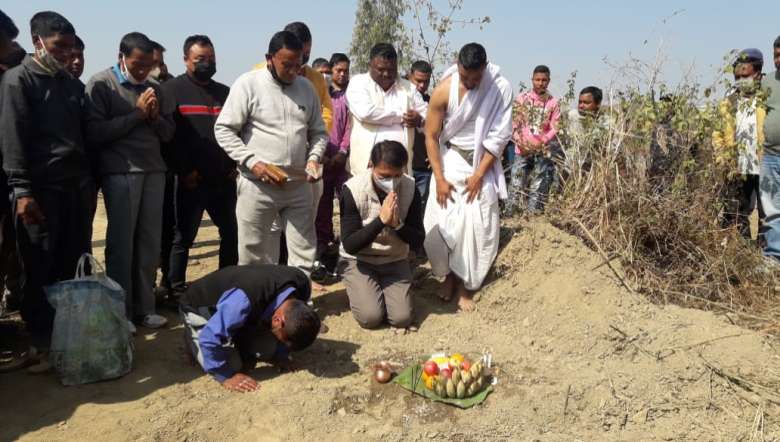 (PHOTO: IFP)
---
Heirok Assembly Constituency MLA Thokchom Radheshyam on Saturday said that a water harvesting pond which is being dug at Heirok part- III Inamung Kangthak area will lessen the grievances faced by the farmers. 
The digging work of a rainwater and ground water harvesting pond under the initiative of the Heirok Assembly Constituency MLA began on Saturday. It is said that the pond which will be dug up under the Minor and Irrigation Department, Government of Manipur will benefit to nearly 600 hectares of agricultural land of Heirok Assembly Constituency. 
Taking part at the invocation to Mother Earth programme for the digging work, Radheshyam expressed happiness on fulfilling the long cherished dream of the farmers of his constituency. 
The MLA said that Heirok AC is a constituency where maximum numbers of farmers live.
"Although the farmers want double or triple cropping in a year, water scarcity poses a challenge. For the last many years, rainwater has been the only source of water for these hard working farmers and for providing another source of water, this pond is being dug," the MLA added.
Radheshyam continued that being a MLA, he is always pondering upon how to lessen the grievances faced by the farmers and also how to heighten their economic condition.
"The pond will store and conserve both ground water and rain water. The pond will have the capacity of providing water at more than 600 hectares of agricultural land of Heirok part I, III and also some agricultural lands of Salungpham village during winter or dry season or throughout the year," Radheshyam said, adding that there will be drains which will be constructed by CADA.
After the digging work is complete, there is confidence that our farmers can plant both Kharif and Rabi crops successfully and will surely bring a giant growth in their economic condition, the MLA assured.  
There is the plan of widening and blacktopping the route that connects the pond from Heirok part III.The hillocks where the pond is located is very pleasant and delightful to see and will surely attract tourists. Knowing this fact, there is a consideration of setting up a tourist spot there, the MLA said.
MLA further said that a godown or storehouse for keeping machinery items like tractor or tools of farmers will be constructed near the pond. Seeds, fertilizers and others will also be stored at the said house, he added.
MLA Radheshyam lauded the villagers of Heirok Assembly Constituency for extending help whenever every development work is being taken up. 
"This shows the unity and solidarity among ourselves. The farmers of Heirok Assembly Constituency should show that together we can bring economic development," Radheshyam said. 
The invocation ceremony witnessed the presence of farmers of the Inamung Kangthak area and Salungpham village. Assistant Engineer of Minor Irrigation Department,Thoubal sub division Michael Johnson Moirangthem, SOs W Birman and Y Ingocha also took part in the event.
Farmers' groups leaders Henric Thokchom and Laishram Naobi extended gratitude to Radheshyam, BJP Heirok Mandal president Thokchom Chourjeet, Upa Adakshya of Thoubal jilla parishad T Nunghsi, Heirok part III pradhan, among others for implementing the plan into effect. 
First Published:
Feb. 6, 2021, 6:07 p.m.