Ahead of schools reopening, efforts on to root out drugs menace in Bishnupur district
'Drugs users should be brought to the Integrated Rehabilitation Centre for Addicts to avail free treatment and counseling services'.
---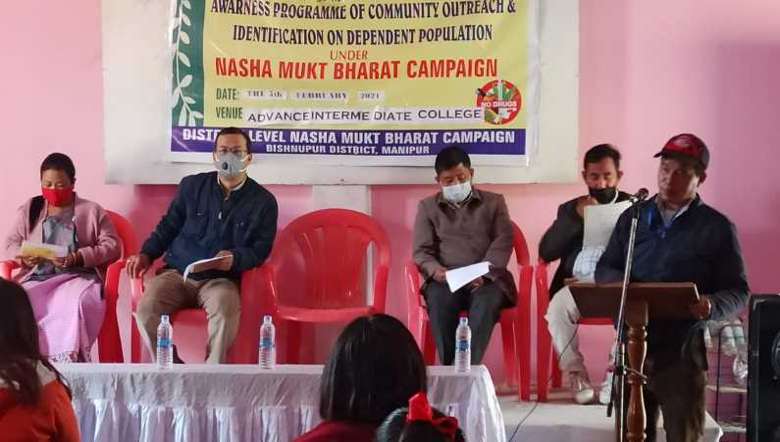 (PHOTO: IFP)
---
The fight against the social ill of drugs menace in Manipur is a constant struggle for concerned citizens in the state. As a part of the continous efforts to make Bishnupur district drugs free, a one-day awareness programme on drugs entitled 'Community Outreach and Identification on Dependent Population' was conducted Friday.
The programme was held at Advance Intermediate College, Moirang Thamnapokpi Bishnupur as a part of the Nasha Mukt Bharat Campaign Bishnupur district
The campaign was started with the aim to make the district free from drugs menace in view of the reopening of educational institutions in the post COVID-19 unlock situation.
In the effort to control the drug menace, the community should become aware about issues faced by drug users with empathy and help bring the users at the Integrated Rehabilitation Centre for Addicts (IRCA) which is a MSJE supported centre to avail free treatment and counseling services, the speakers said.
At the end of the programme, the gathering declared the Advance Intermediate College to be free of psychoactive substances (drugs) and addictive substances which are harmful to physical and mental health.
The function was attended by Bishnupur DSWO J Jotish Singh DSWO; Chief functionary of Social Upliftment Association K Pradipkumar; secretary of PARAD L Suranjay and vice-principal of the college Dineswor Singh as presidium members.
ALSO READ
First Published:
Feb. 6, 2021, 12:22 p.m.