'Contents of Puya need to be deliberated on scientific grounds'
Puya is an ancient manuscript of Manipur documented by Maichous (scholars) from time to time.
---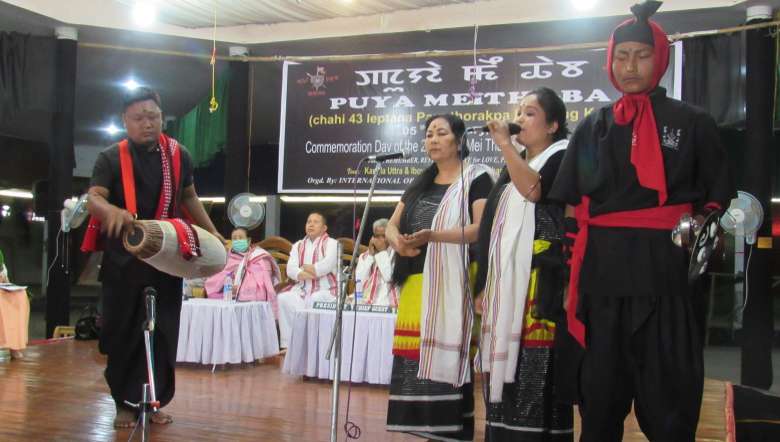 (PHOTO: IFP)
---
Those who still follow the indigenous culture of forefathers mentioned in Puyas (ancient Meetei manuscripts) are considered as fanatics by the people of the present day society but the instructions, dos and don'ts mentioned in the Puyas need to be discussed on scientific grounds, assistant professor, GP Women College Waikhom Romesh said on Friday.
He was speaking as a special guest during the 292nd Puya Meithaba commemoration day observed at Iboyaima Shumang Leela Shanglen, Palace Compound, Imphal East.
The function was organised by International Observation Committee on Puya Meithaba (ICOP), Kangleipak. The day is observed on every 23rd day of Wakching in the Manipuri lunar calendar.
Puya is an ancient manuscript of Manipur documented by Maichous (scholars) from time to time. It is said that the manuscripts deal with the genealogy, literature, history, royalties, administrations, creation and cosmology, philosophy, poetry, religious beliefs and others.
Romesh said the people need to discuss the contents and importance of the manuscripts as various guidelines connected to the indigenous culture of Manipur are mentioned in them. Those instructions need to be studied with scientific explanations, he asserted.
They provide instructions on health and hygiene including food habits of indigenous culture, and they even include the hygiene practiced by the people during the COVID pandemic, he added.
The government needs to reserve a separate budget for a 'National Institute of Puya studies', he added.
The organisers felicitated Padma Shree awardee Guru Rewben Mashangva as a part of the observation.  An appreciation certificate along with a cash award was also handed over to him.
The organisers expressed their appreciation to the guru for performing an invocation song written by Luchingpurel Chingsubam Akaba on the commemoration ceremony of Puya Meithaba every year. They also expressed gratitude for the endless contributions made by Rewben to bring love and unity among different communities in his songs.
This year's 'Maichou Ningshing Mana, 2021' was conferred to Ashangbam Tababi Leima wife of Ashangbam nabakumar Meetei of Wangkhei Khunou Checkon bazaar, Imphal East.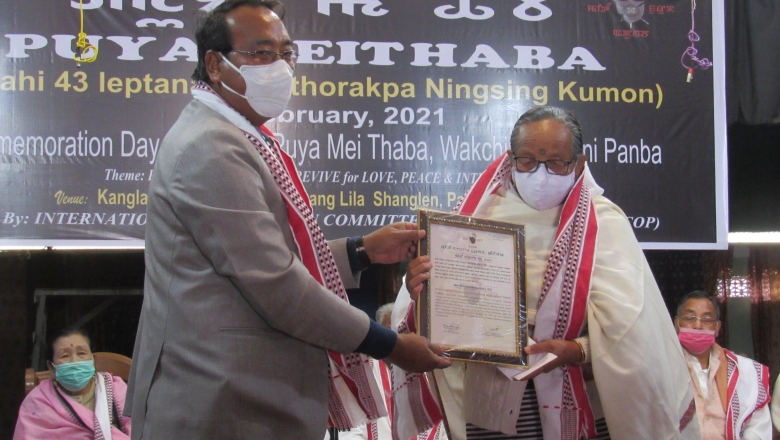 Maichou ningshing mana, 2021 award conferred to Ashangbam Tababi Leima (PHOTO: IFP)
'Chingmi-Tammi Nungshi Leepun Mana, 2020' was conferred to L Henboi son of L Nembah of Kangpokpi district.
Chingmi-Tammi Nungshi Leepun Mana, 2020 award conferred to L Henboi (PHOTO: IFP)
Department of Anthropology, Manipur University, professor W Nabakumar as chief guest of the function said Puyas not only describes the indigenous religion of Manipur but it also describes traditions and culture. It is necessary to discuss their contents as they provide valuable guidelines on preservation of indigenous culture of Manipur, he added.
Organising such a day is very much needed as such observations rejuvenate the indigenous culture of ancient Manipur, Nabakumar said.
In the morning, a 'puya meekonba' programme was organised at Kangla Heikrumakhong and floral tributes were also paid in front of Kangla Utra to honour the Maichous who had passed away.
ALSO READ:
First Published:
Feb. 5, 2021, 11:42 p.m.