Locals accuse police of inaction in alleged attempt to murder case
The locals of Litan Makhong in Imphal demanded justice for the crime.
---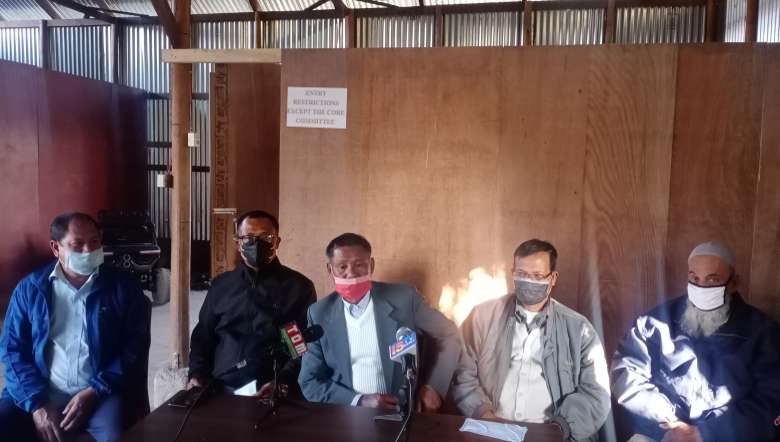 (PHOTO: IFP)
---
Accusing the police of inaction in nabbing the culprits of the alleged attempt to murder case that took place in broad daylight at Andro, locals of Litan Makhong in Imphal on Thursday demanded justice for the crime.
Two men were reportedly physically assaulted by a group of people while they were visiting their ailing relative at Poiroukhongjil Maibam Leikai, Imphal East on February 3. Vehicles of the victims were also reportedly damaged by the attackers.  
The two victims are Sagolsem Raghu, 50, son of S Heramot of Poiroukhongjil Litan Makhong and Yumkhaibam Thambaljao, 45, son of Y Dharma of Andro Awang Leikai.
A complaint has been lodged at the Andro police station against four individuals who led the gang of around 20 people. The police, however, have not taken action against the culprits, said one Sagolshem Juge while speaking to the media on Thursday in Imphal.
Juge claimed that he had accompanied the two victims while visiting the ailing relative identified as Maibam Hemba.
The four accused against whom the complaint was lodged are Konthoujam Sobhachandra, 45, son of Ibohalbi of Poiroukhongjil Awang Leikai, Nongthombam lbochoubi, 42, son of late Mangi of Poiroukhongjil Litan Makhong, Pangambam Luwang, 40, son of late  lbocha of Poiroukhongjil Pangambam Leikai and Keisham Rajesh, 40, son of Ibohalbi of Poiroukhongjil Mayai Leikai, said Juge.
He said, "Failure to nab the culprit by the police seems like there is a big political influence regarding the incident. It also seems like the culprits are protected by a powerful politician."  
Asserting that there is a trend of shielding the culprits who have political influence, Juge appealed to the people of Andro constituency to remain united in demanding justice for such crime.
First Published:
Feb. 4, 2021, 7:16 p.m.