Woman dies after childbirth at JNIMS, family blames doctors' negligence
The family members demanded the doctors concerned and JNIMS authority to admit their negligence and to tender an apology.
---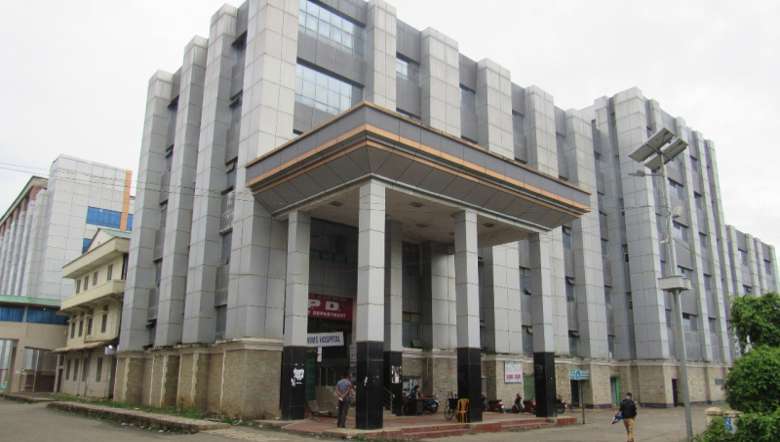 JNIMS in Imphal (PHOTO: IFP)
---
Protests erupted at JNIMS Wednesday morning following the death of a woman who died after delivering a child at the hospital.
The deceased has been identified as Oinam ongbi Sashibala, 36, wife of Oinam Ojitkumar of Thoubal Leisangthem. Family members of the victim alleged that she died due to negligence of doctors on duty.
Subsequently, around 10:30 am irate locals and family members tried to vandalise the hospital properties demanding apology from the doctors concerned. However, Imphal East police rushed to the scene and pacified the situation.
According to family members, Sashibala was admitted to the hospital on January 29 as advised by Dr Romita whom they consulted. Subsequently, she was operated on January 31 and a baby girl was delivered.
"The doctor concerned, whom they consulted and who scheduled the operation on January 31 did not take part in the operation," sister of the victim Naorem ongbi Sandhyarani lamented.
"The doctor when asked why she did not take part in the operation said that she was in OPD. How come there is OPD on Sunday. It was just an empty explanation just to save herself," Sandhyarani rebuked.
She further said that Sashibala could not pass urine after the operation and alleged that the doctors on duty that day cut her urinary tract leading to accumulation of toxins in the body.
The sister also stated that the operation was conducted after a series of tests held prior to the operation as advised by the health professionals and all results were normal. "However, the doctors are now claiming that the patient had pre-existing health complications instead of taking responsibility for their negligence," she condemned.
The family members demanded the doctors concerned and JNIMS authority to admit their negligence and to tender an apology. 
Medical Superintendent of JNIMS, Dr Lokeshwar claimed that as per preliminary report received from doctors on duty who operated late Sashibala, the victim died of "Amniotic fluid Embolism". (This is a very uncommon childbirth emergency in which amniotic fluid enters the blood stream of the mother to trigger a serious reaction. This reaction then results in cardiorespiratory collapse and massive bleeding).
Dr Lokeshwar, however, refused to comment on the allegation that Romita was not part of the operating team, as accused by the deceased family.
First Published:
Feb. 3, 2021, 10:48 p.m.