World Wetlands Day observed at Pumlenpat
Pumlenpat has a total area of 32.26 sq km with a direct catchment area of 127.75 sq km and an indirect catchment area of 335.45 sq km.
---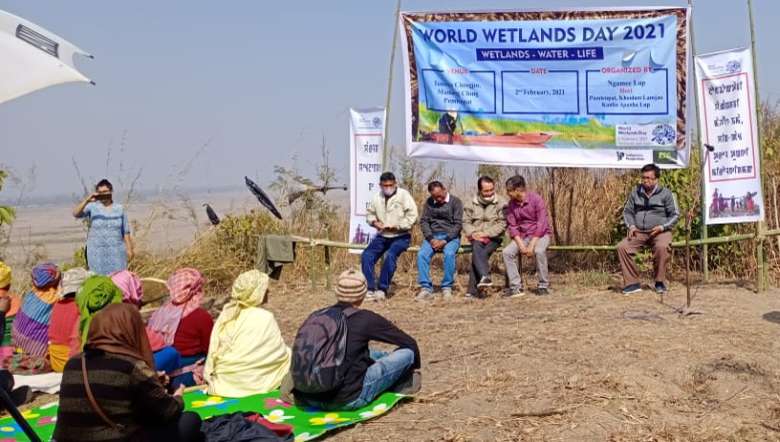 The Ngamee Lup of Pumlenpat on Tuesday observed World Wetlands Day at Tonoma Chingjin, Mamang Ching of Pumlenpat in their efforts to spread awareness about the degradation of Pumlenpat, the second largest lake of Manipur after the Loktak Lake, and to voice the importance of conserving the lake located 68 km from Imphal in Kakching district.
A global campaign to protect the unique Loktak Wetland region in Manipur for posterity has been started, convenor Ngamee Lup Ram Wangkheirakpam said during the occasion. The campaign was initiated by Ngamee Lup in coordination with Indigenous Perspective, Imphal, and Environment Support Group, Bangalore, he said.
The campaign raised demands that the Wetlands International, Switzerland must unconditionally and immediately withdraw the 'Loktak, Manipur: An Integrated Plan for Wise Use (2020-2025)'. It demanded that the state government must withdraw 'Loktak Inland Waterways' and the 'Loktak Eco-Tourism Project' projects, and the draconian Manipur Loktak Lake (Protection) Act of 2006 must be repealed.
In its place, a law must be enacted after deep and widespread consultation with the people of Loktak region to ensure that their traditional rights and livelihoods are protected, and they continue as custodians to protect and conserve this biodiversity rich wetland complex for posterity, Ram said.
He said that the Loktak region must be declared a World Heritage Site by UNESCO in acknowledgment of the living heritage that fisher and farming communities here have shaped over centuries.
He further said the campaign demands that the Loktak region must be declared a 'Community Conservation Area' as per the Forest Rights Act, 2006 and as a 'Biodiversity Heritage Site' in accordance with the Biological Diversity Act, 2002. As a first step towards this goal, statutory mandates to constitute Forest Rights Committees and Biodiversity Management Committees must be followed, he said. All fundamental and traditional rights of indigenous communities living in the Loktak region, particularly their right of domicile, right to housing, and right to livelihoods, must be recognised and with due dispatch, he added.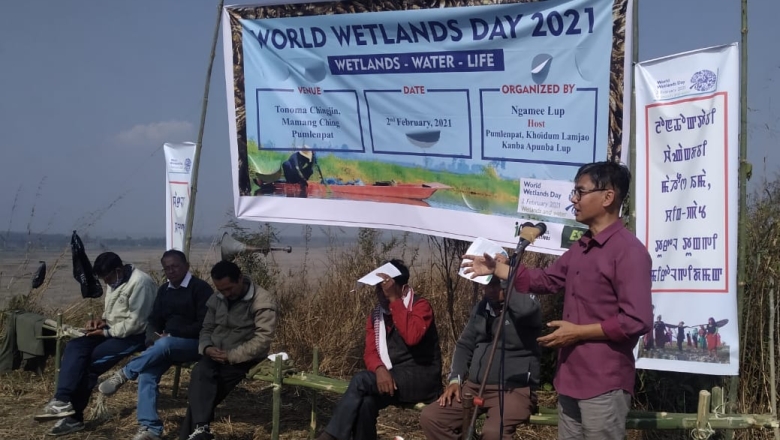 (PHOTO: IFP)
During the observation, the farmers of Pumlenpat shared their experience concerning the degrading conditions of the lake. They charged that a recent report prepared by the LDA and Wetlands International South Asia (WISA) titled 'Loktak, Integrated Wise Use Plan' has brought to the fore a blatant attempt to dislocate farmers (fishing and agriculture) who are dependent on the Loktak, Pumlen, Ikop-Kharung and Khoidum wetlands in the name of 'wise use and conservation'.
Pumlenpat has a total area of 32.26 sq km with a direct catchment area of 127.75 sq km and an indirect catchment area of 335.45 sq km. It is a conjoined lake formed by Khoidumpat in the North, Lamjaopat in the Northeast, and Pumlen main basin in the south.
It is associated with around 26 different lake basins from all sides. Of the total lake area, 58 percent is covered by phumdis, 41 percent by open water area, and 1 percent by islands. The lake receives water from precipitation, surface runoff from the northern agricultural fields, indirectly from Sekmai and Manipur rivers.
The lake is rich in biodiversity in terms of flora and fauna. The floral species consists of 194 species (95 marginal/marsh species, 15 floating leaved species, 14 emergent, 10 free-floating, 9 submerged species, and 52 species that colonize the phumdis) and about 244 faunal species (46 invertebrates and 198 vertebrates) are found in the lake, according to studies of sustainable management of wetlands in the central valley Manipur did in 2007.
Unfortunately, a remote sensing survey report stated Pumlenpat is among the highly degraded lakes. The fate of the historic lake is on verge of extinction with the Loktak project. A total of 32.26 sq km has been deteriorating gradually since the construction of Ithai Barrage as part of the Loktak Project in 1986 over the Imphal River. With the Ithai Barrage obstructing the weeds of the lake from flowing down, 80 percent of the lake has been covered under thick weeds leaving almost no space for the fishermen to earn their livings.
ALSO READ:
Manipur holds WWD 2021 at rejuvenated Yaralpat; experts discuss indigenous ways of preserving wetlands
First Published:
Feb. 2, 2021, 10:04 p.m.