Intensified Pulse Polio Immunisation 2021 to cover 3,10,000 children in Manipur
The Intensified Pulse Polio Immunisation 2021 programme in Manipur was inaugurated by advisor to chief minister (Health and Family Welfare), Sapam Ranjan on Sunday
---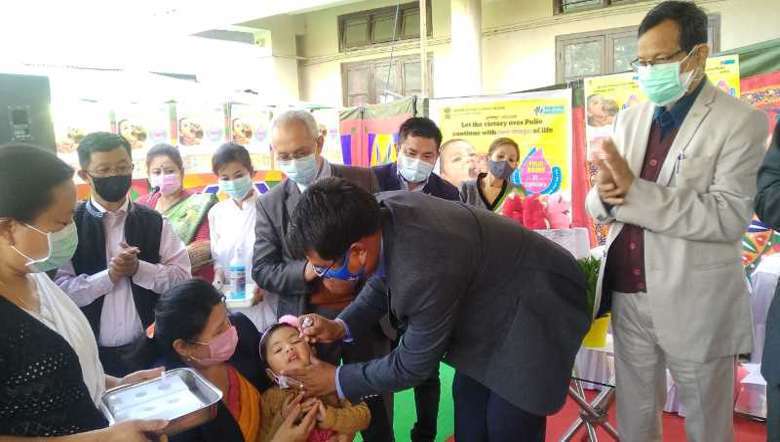 (Photo: IFP)
---
As many as 3,10,000 children in Manipur are expected to benefit from the Intensified Pulse Polio Immunisation (IPPI) programme, advisor to chief minister (Health and Family Welfare), Sapam Ranjan said on Sunday.
"The Intensified Pulse Polio Immunisation (IPPI) programme for Manipur aims to benefit around 3,10,000 children by opening 3,600 polio booths across the state," Ranjan said while inaugurating the three-day IPPI Manipur programme at the Health and Family Welfare office in Imphal on Sunday.
The programme was organised by the National Health Mission, Manipur and the Directorate of Health and Family Welfare.
"The pulse polio programme was conducted as preventive measures though India was officially declared a polio-free country," Rajan said.
Pointing out that immunisation is mandatory for children, he appealed to parents to take their children to the nearest health centres for polio immunisation.
The function was attended by Family Welfare director P Shyamsunder as president, director of Health Services K Rajo and state mission director of NHM, Manipur N Shyamjai as guests of honour.
18,967 children to be covered under IPPI in Kangpokpi district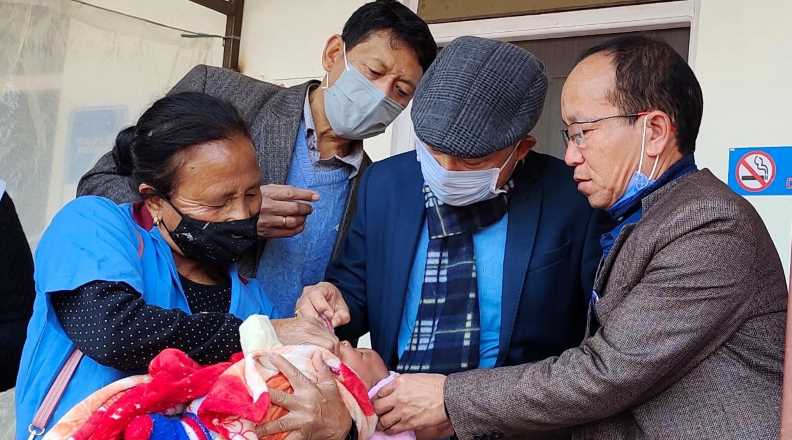 In Kangpokpi district, Deputy Commissioner, Kangpokpi, Somorjit Salam, launched the IPPI by immunizing few eligible children. Dr Nilankanta Singh, Chief Medical Officer, District Hospital Kangpokpi, Dr J Touthang, District Immunization Officer, Kangpokpi District also administered Pulse Polio Vaccine to few eligible children.
The programme held at the District Immunization Office Complex, Kangpokpi HQ was organised by District Health Society-NHM, Kangpokpi district. For the effective and smooth conduct of the campaign, various teams comprising of Health workers, ASHA workers have been deployed across the district besides, mobile teams for transit camps and bus stands have also been deployed at various strategic locations.
Speaking to media persons, Dr Touthang, the IPPI programme is crucial to the health and well-being of a child and the main objective of the programme is to educate the public about the importance of immunizing their children which will help in eradicating the deadly polio virus from this district and the state as well.
"The IPPI programme is not for us but for our children who are the future generation and the greatest gift that we can give to them is their Health and we should give them what is rightfully theirs," he added. He expressed the hope that with the success of this programme more villages will accept, turn up and take the initiative of immunizing their children against the deadly poliomyelitis disease.
The District Immunization Officer also said polio drops would be administered to over 18,967 eligible children from 0-5 years throughout the district.
13,408 children to be covered in Tamenglong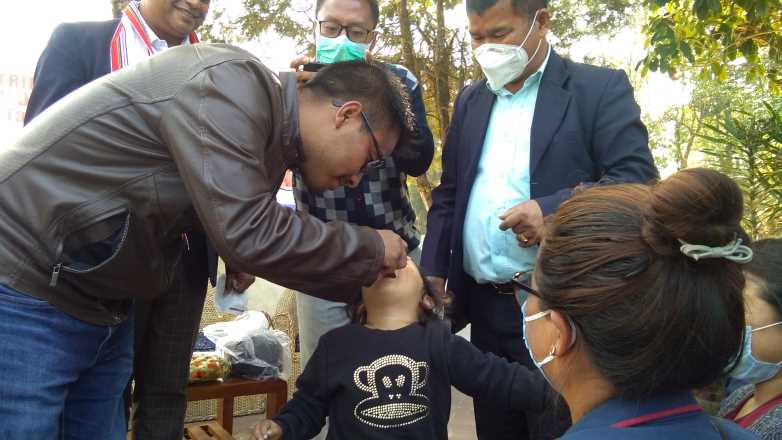 In Tamenglong, as many as 13,408 children from zero to five years will be given Pulse Polio drops in Tamenglong and Noney districts, District Immunization Officer Dr Sunil Kamei told the Imphal Free Press on the sidelines of the launching IPPI programme at the Bungalow of Deputy Commissioner Tamenglong on Sunday morning.
The inaugural programme was attended by Deputy Commissioner Tamenglong Armstrong Pame as chief guest.
Sub- Regional Team Leader of World Health Organisation (WHO) Dr Rajendra Kumar Singh and Chief Medical Officer Tamenglong Dr Chambo Gonmei attended as guest of honour and president of the function respectively.
DIO Dr Sunil Kamei said that Health department has opened 140 booths to cover 7,583 children zero to five years old. To make sure every child from zero to five-year-old children the health department appointed 28 Supervisor. Those children left out from 140 booths, ASHAs and Angawadi workers will visit door to door in 10,256 households in Tamenglong district, he said.
Regarding Noney district, Dr Sunil Kamei said that as many as 20 supervisors were appointed to cover 5825 in 100 booths. And those children left out from 100 booths, will be administered by ASHAs and Anganwadi workers by visiting door to door in 7817 households within two-three days to make sure all children are immunised.
Pame requested all health workers to make sure all children are administered with Pulse Polio so that the dreadful disease would not afflict any children in the future.
The deputy commissioner assured all possible help to reach far-flung villages of Tamenglong. He said all villages in Tamenglong district have been connected with motorable roads, except Pumram and Zenning village in Tousem Sub-Division.
Armstrong Pame also said that education and health sectors are his top priority but he could not do much on education due to the COVID-19 pandemic.
He also announced to give Rs 20,000 to most active nurse at PHC level and ASHAs with first, second and third with Rs 10,000 at PHC level.
Zonal Education Officer Tamenglong Dimonang Pamei, ASHAs and Aganwadi workers also attended the launching programme.
Two-day polio drop immunisation programme in Moreh
In Moreh, the National Immunisation Day Polio Vaccination Programme was launched by SDC, Moreh L Brojendra Singh at Primary Health Centre on Sunday, during which Polio drops were given to children under the age group of 0-five years.
Speaking at the two-day programme, Brojendra Singh said that aiming to eradicate polio disease from the surface of the earth; the immunisation programme is being taken up all over the country. For a better future, new born babies (0-5 yrs) should be given polio drops to keep the disease at bay, he said.
He asserted that every child below five years should be compulsorily given polio drops and appealed the public to do so. Staff nurses and ASHA workers should take more responsibility and go for a door to door polio vaccination, he added.
Speaking on the importance of polio immunisation, CMO, Tengnoupal Gojen Singh said that though WHO declared India as a polio free nation, "we should still carry out the immunisation programmes so that our next generation will be polio free." He said that the two-day polio drop immunisation will be taken up across the town from tomorrow onwards by the ASHA workers. Every mother of new born babies should not miss this opportunity, he added.
MO in charge Dr Kh Santikumar, PHC Moreh and Dr Avisek of 43 AR also attended the programme.
First Published:
Jan. 31, 2021, 8:12 p.m.