Prime Minister Modi highlights creation of wealth from waste in Maan Ki Baat
Emphasising on the power of innovation, Modi shared several inspiring stories of amazing feats achieved by the people from across the country in his latest Mann Ki Baat.
---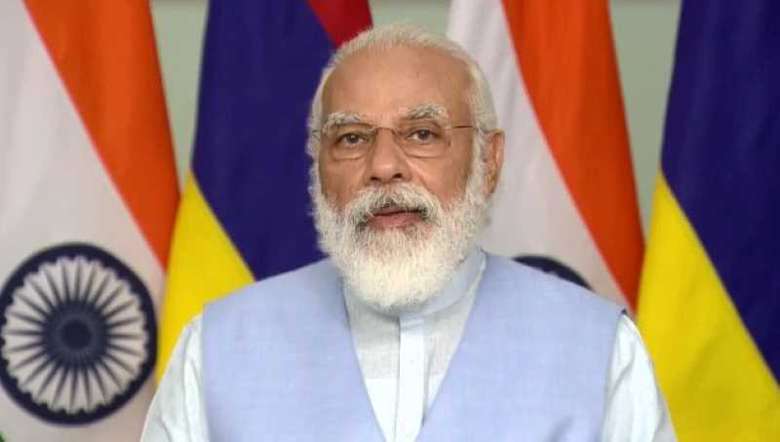 Prime Minister Narendra Modi
---
As the first month of the new year, January 2021, draws to a close, Prime Minister Narendra in his Sunday morning radio talk highlighted the power of innovation that can create wealth from waste and the need of environment protection that can take India forward. Emphasising his points, Modi shared several inspiring stories of amazing feats achieved by the people from across the country in his latest Mann Ki Baat.
Saying that Mann Ki Baat is all about exchanging "bitter-sweet" life's experiences that become an inspiration for living a wholesome life, the prime minister shared how a local vegetable market in Boinpalli of Hyderabad utilised vegetable waste to generate electricity.
"Today in Boinpalli vegetable market… Nearly 10-tonnes of waste is generated there every day, which is collected in a plant. In this plant 500-units of electricity is generated every day, and about 30 Kilos of bio fuel too is generated. The vegetable market is illuminated through this electricity and the bio fuel that is generated is used to cook food in the market canteen," he said.
A similar amazing feat has been achieved by the Badaut village Panchayat of Panchkula in Haryana, Modi pointed out.
"This Panchayat faced the problem of water drainage. Because of this dirty water was spilling around, spreading disease, but, people of Badaut decided that they would create wealth even from this water waste. The village Panchayat started filtering the dirty water coming from the village after collecting it at a place, and this filtered water is now being used for irrigation by the farmers of the village, thereby, liberating them from pollution, filth and disease and irrigating the fields too, he said.
Modi also highlighted how protection of environment can open avenues of income as was seen in Tawang in Arunachal Pradesh too.
"For centuries a type of paper called 'Mon Shugu' is made in this hilly region of Arunachal Pradesh. The locals here make this paper from the bark of a plant named Shugu Sheng, hence trees do not have to be cut to make this paper. Besides, no chemical is used in making this paper, thus, this paper is safe for the environment and for health too. There was a time when this paper was exported but with modern techniques, large amount of paper started getting made and this local art was pushed to the brink of closure. Now a local social worker Gombu has made an effort to rejuvenate this art, this is also giving employment to tribal brothers and sisters there," he said.
The prime minister also shared a news from Kerala. "In Kottayam of Kerala there is an elderly divyang, N.S Rajappan Sahab. Due to paralysis, Rajappan is incapable of walking, but this has not affected his commitment to cleanliness. For the past several years he has been going by boat in Vembanad lake and taking out the plastic bottles thrown into the lake… Taking inspiration from Rajappan ji, we too should, wherever possible, make our contribution to cleanliness," he said.
Modi then spoke about the recent incident of how four women pilots from India took command of a non-stop flight from San Francisco, America to Bangalore.
"Travelling more than ten thousand kilometres, this flight ferried more than two hundred and fifty passengers to India. You must have also observed this time in the 26th January parade, where two women officers of the Indian Air Force created new history. Whatever be the area, the participation of the women of the country is continuously on the rise, but, often we see that, there is not much discussion of similar changes occurring in the villages of the country, so, when I got this news from Jabalpur in Madhya Pradesh, I felt that I must make a mention of it in 'Mann Ki Baat'," he said.
Modi also shared the inspiring story of painter Sarmuddin, strawberry cultivation in Bundelkhand and that of tribal women from Chichgaon, Jabalpur. Some tribal women working on daily wages in a rice mill, which was closed when the Corona pandemic hit, collectively bought the same rice mill and started running their own rice mill. He said strawberry which was once identified with the hills, is now also being cultivated in the sandy soil of Kutch, boosting the income of farmers.
The agricultural sector of the country is adopting new technologies and the government is committed to modernizing agriculture and is also taking many steps in that direction, he said.
The prime minister also mentioned India's fight against Coronavirus, saying, "The beginning of this year marks the completion of almost one year of our battle against Corona. Just as India's fight against Corona became an example, our vaccination Programme too is turning out to be exemplary to the world".
Taking pride in "Made in India" vaccine, Modi said, "It is a symbol of India's self-reliance; it is also a symbol of her self-pride… During the moment of crisis, India is able to serve the world today, since she is capable, self-reliant in the field of medicines, vaccines. The same thought underpins the Atmanirbhar Bharat Campaign. The more India is capable, the more will she serve humanity; correspondingly the world will benefit more".
The prime minister also highlighted how unsung heroes and extraordinary works were recognised and honoured with Padma Awards. He then lauded the hard work and teamwork of the Indian cricket players in winning the series in Australia. "We have to work hard to attain our resolves. We have to take our country forward at a faster pace," he said.
Among other things, Modi also reminded the citizens the celebration of 75 years of India's Independence – Amrit Mahotsav.
"In every corner of this land, Bharatbhoomi, great sons and brave daughters were born who gave up their lives for the nation. Hence it is very important that we preserve the saga of their struggles for our sake and their memories and for this we can write about them to keep their memories alive for generations to come," he said.
Modi appealed to all countrymen, especially the young ones, to write about freedom fighters, incidents associated with freedom.
"Write books about the saga of valour during the period of freedom struggle in your area. Now, as India will celebrate 75 years of her freedom, your writings will be the best tribute to those heroes of our freedom. An initiative has been taken for Young Writers for the purpose of India Seventy-Five. This will encourage young writers of all states and of all languages.
"Writers who write on such subjects, who have studied deeply Indian heritage and culture, will come forth in large numbers in the country. We have to fully help such emerging talents. This will also prepare a category of thought leaders that will decide the course of the future. I invite my young friends to be a part of this initiative and to use their literary skills more and more. Information about this can be accessed from the website of the Ministry of Education," he added.
First Published:
Jan. 31, 2021, 3:49 p.m.