MLA Nemcha Kipgen inaugurates world class Dreamland Turf at Champhai
Nemcha Kipgen inaugurated the ground by cutting the ribbon in the presence of various CVO leaders of the district
---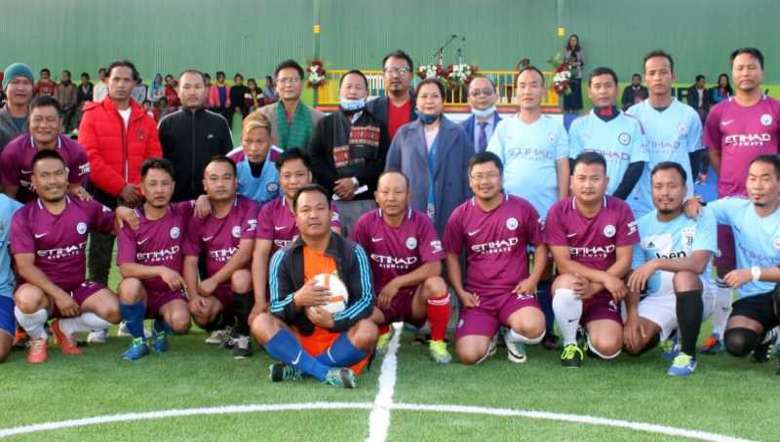 (Photo: IFP)
---
In a proud moment for the people of Kangpokpi, especially football lovers, Kangpokpi AC MLA, Nemcha Kipgen on Saturday inaugurated Dreamland Turf ground at Champhai located between Bongmol and Keithelmanbi in Champhai Sub Division, Kangpokpi district.
An initiative of founder of Kuki Football Academy (KFA), Thangboi Kipgen, Dreamland Turf is a unique and one of its kind among many in Manipur since it is the first and only turf constructed by following the norms and rules of a turf.
Nemcha Kipgen inaugurated the ground by cutting the ribbon in the presence of various CVO leaders of the district including Kuki Inpi Kangpokpi, KSO Sadar Hills, Thadou Inpi Kangpokpi, Thadou Students' Association.
MLA Nemcha Kipgen appreciated the initiative of bringing up such development in the field of games and sports in her constituency in particular and the district as a whole. She continued that such Turf ground being introduced for the first time in the district will bring tremendous changes in the life the people especially among the football lovers.
Thangboi Kipgen said that the materials mainly the turf is a world class quality imported from Germany and the Silica sand was imported from various other parts of India.
"The distance between our dream and reality is called action and it is never too late to focus on our dream, which is proven to us through the ground," Thangboi said.
The turf ground is a seven men soccer capacity which will be opened day and night. The charge for 1 hour will be Rs 1,500 at night and Rs 1,000 during day time.
First Published:
Jan. 31, 2021, 12:13 a.m.