Murder of Minor: JAC, guardians unhappy with police investigation
The body of a four-year-old boy was found floating in a pond around 9.30 am on January 24.
---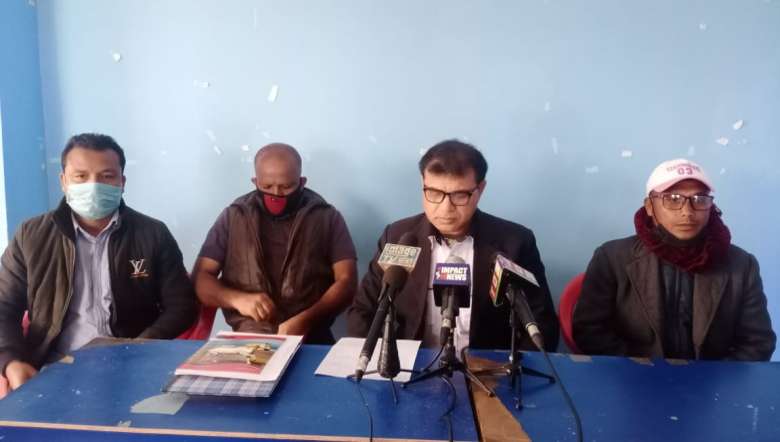 (PHOTO: IFP)
---
The 'Joint Action Committee against the brutal killing of Md Ribas Khan' on Thursday expressed unhappiness over the ongoing police investigation in the alleged murder of the four-year-old boy.
The public in Manipur, the guardians of the victim and members of JAC, expressed fears that the investigations may be diverted, advisor of the JAC Abdur Razzak said in a press meet held at Manipur Press Club on Thursday.
Four-year-and-two-month old Md Ribas Khan, son of Md Riyas Khan, went missing on January 19 around 1 pm. People of Thoubal Moijing searched at different places in and around the neighbouring areas, including ponds. The hunt for the missing boy went on till January 23 and on the following day, the body was found floating in a pond around 9.30 am, some 100 meters away from his house.
The pond was already searched by many people even by one Asshadulla who is known for his deep diving skills, Razzak said. He claimed that the body of the boy was fresh and some white coloured plaster marks were found around his mouth. If the boy had drowned on the day he went missing, then the body should not be still fresh and an apparent smell would emanate out of natural decomposition, he said.
While the post mortem report is still awaited, police are not giving out any clues of the case by telling that they are unable to take further action without the post mortem report, he said. No one from the family of the victim or the JAC was allowed to attend the post mortem, he further said while expressing suspicions that the report of the post mortem may be manipulated.
If the report comes contrary to the sentiment of the people and against their trust, then the JAC will not remain silent. He warned that intense form of agitations will be undertaken if the report is not satisfactory.  
He continued that the police have arrested the grandfather of the boy Abdul Satar and one Mohammad Mehmud as accused persons. But surprisingly, police are not taking any further actions though the parents of the deceased lodged a written complaint to arrest and interrogate more people, he added.
On January 29, the JAC will organise a mass meeting in connection with the killing of the-four-year old boy at Moijing playground, he said while appealing to the civil bodies, Meira Paibi student organisations to attend the meeting.
Meanwhile, police had taken two accused persons into custody till February 1.
First Published:
Jan. 29, 2021, 12:17 a.m.