Government keen to create conducive environment for youth: Manipur Works Minister Biswajit
The minister said every leader needs to understand their responsibility and act accordingly.
---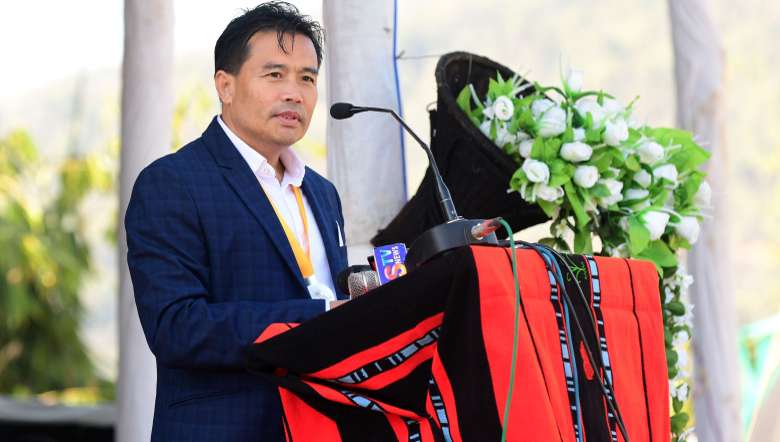 Works Minister Thongam Biswajit Singh
---
It is everyone's responsibility to create a protective and conducive environment for the youth in the state, Works Minister Thongam Biswajit Singh said on Thursday. He said the present government led by N Biren Singh is also committed in providing the same for the youth of the state.
The minister was speaking on the 10th day of the 22nd Poumai Naga Tsiidoumai Me (PNTM) at the Daphao Ground, Purul, Senapati district.
Biswajit, who declared open the Naga Indigenous Wrestling said, "Our indigenous games are our identity and we should protect and preserve them."
Mentioning that he believes in the popular adage, "Position without responsibility is meaningless," the minister said every leader needs to understand their responsibility and act accordingly.
Speaking on the importance of developing human resources, Biswajit expressed that education nurtures human resources.
"We cannot utilise any natural resource without developing human resources," he said. He continued that the people need education to bring a sustainable development and eradicate poverty. "Education is the best way to fight poverty," he quoted Prime Minister Narendra Modi.
He also said that India has a huge potential as a vast part of the country's population comprises the youth. Biswajit, who is also the Commerce, Textiles and Industry minister expressed happiness in knowing that local entrepreneurs are producing Kiwi fruit juice in the area. He explained that there can be no development without industrialization.
He further explained several schemes of the government to uplift the poor and educate the youth.
He said that the Deen Dayal Upadhyaya Grameen Kaushalya Yojana is a part of the National Rural Livelihood Mission which will help the rural poor and trained youths in various vocational skills.
The minister also spoke on various other schemes like the Manipur Start-Up and Stand-Up Manipur schemes. He said these schemes encourage the youth to become entrepreneurs. "We can face the unemployment issue, if we increase the number of entrepreneurs in the State as they create employment opportunities," he said.
Meanwhile, responding to the memoranda submitted by different organisations seeking installation of transformers, road development and others, he assured to look into these issues. He assured to take up the development of Inter Village Road within the Poumai Purul Village. The function was also attended by Karong assembly constituency  MLA DD Thaisii, DC, Senapati Th Kirankumar among others.
First Published:
Jan. 28, 2021, 11:51 p.m.