'Northeastern states of India part of global diversity hotspots'
A one day national seminar on "Biodiversity and Sustainable development: A view from North East India" was held at Kha Manipur College, Kakching on Saturday.
---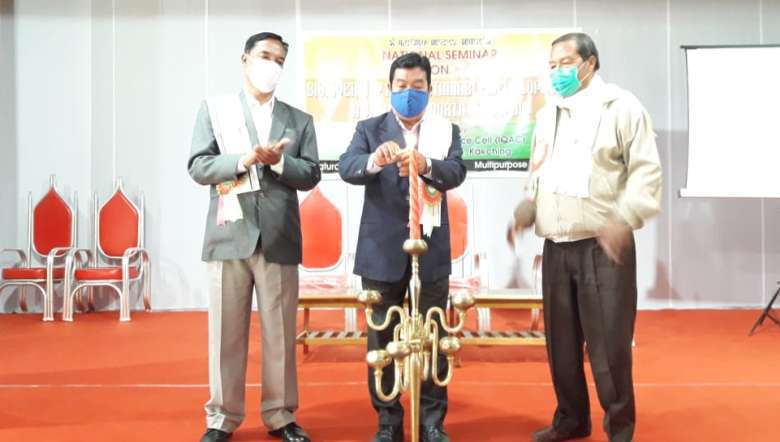 (PHOTO: IFP)
---
A one day national seminar on "Biodiversity and Sustainable development: A view from North East India" was organised by Internal Quality Assurance Cell (IQAC) of Kha Manipur College, Kakching at the multipurpose hall of the college on Saturday.

Giving her key note address P Memory, Associate professor, department of Anthropology, KMC said that the northeastern states of India form a part of the global diversity hotspots. 
She also said that the region is endowed with rich natural resources and is well recognised for its diversity of people, plants and wildlife and is also home to more than 200 out of 450 of India's tribes with the cultures and customs intricately linked to biodiversity conservation. 
Professor Memory remarked that Manipur is richly endowed with natural beauty and splendour. Not only the Sangai and Siroi Lily, the state is blessed with a variety of rare medicinal plants, colourful flowers and numerous species of orchids, she said.

On sustainable development, she explained that the term is an approach that aims to ensure that environment, social and economic progress in the society is achieved without depleting the natural resources. Various organisations and institutions work together to draw attention of mass people on the issues of biodiversity conservation and sustainable development, she added.

Maintaining that Kha- Manipur college Kakching also took the opportunity by organising the one day national seminar, she informed that the findings, knowledge, suggestions and policies from the renowned resource persons, delegates and researchers can be recommended to the authorities concerned.
Such fruitful ideas could be helpful to the decision makers and educationists to draw more concepts while sharing to solve the biodiversity degradation problems, she added.

Also speaking at the seminar, KMC principal P Raghu mentioned the relation between biodiversity and sustainable development. He also opined that developmental activities should be taken up by protecting the environment.

Taking part as moderator of the seminar, professor N Rajmuhon of Manipur University stressed on the importance of conserving our biodiversity loss and ecosystem degradation.

The seminar which was conducted in two sessions was attended by more than 50 teachers and students.
Principal of Kha- Manipur College P Raghu, Head of Department, Physics M Sanaton and head of department, Political science Ksh Nilochandra attended the inaugural session of the seminar as presidium members. 
First Published:
Jan. 23, 2021, 4:09 p.m.