Agriculture Minister O Lukhoi inspects agricultural facilities in Imphal West and Bishnupur
The minister inspected the ground conditions of various agricultural facilities implemented under PMSKY in the two districts.
---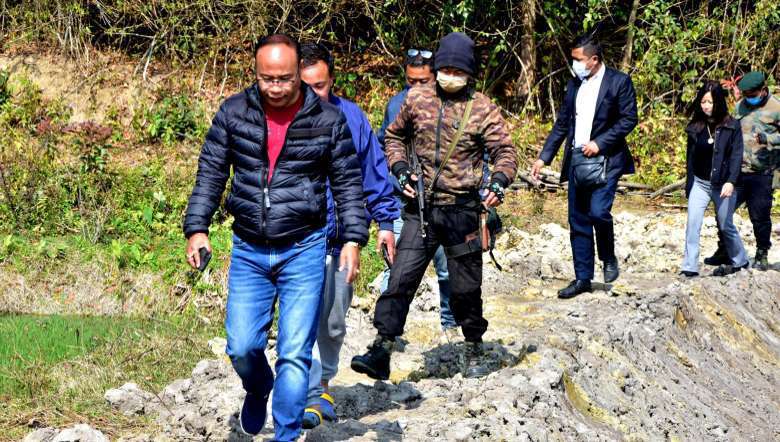 Manipur Agriculture Minister Oinam Lukhoi Singh on Friday inspected the ground conditions of various agricultural facilities implemented under Pradhan Mantri Krishi Sinchayee Yojana (PMKSY) in Mayang Langjing of Imphal West district, and Nambol, Keinou, Naranseina and Khoirentak of Bishnupur district.
The minister inspected various facilities, including check dams, farm ponds, irrigation channels, pump and sprinkler sets to check whether the schemes were implemented as per the guidelines and for increasing the agricultural productivity by the farmers.
While briefing the media, Lukhoi stated that as PMKSY mission aims at improving the farm productivity and ensuring better utilisation of the resources with irrigation at the field level, the projects are taken up in those field areas where there is lack of irrigation facilities with an aim to increase agricultural produces in order to contribute in the economy of the state.
The agriculture minister further informed that 1,750 pumps and sprinkler sets, 305 farm ponds, 35 ponds renovation, 42 irrigation channels and 30 check dams or micro storage were already implemented so far.
Over 1,000 pump and sprinkler sets will soon be provided, added Lukhoi while asserting that the remaining districts will also be inspected and there are many projects in the pipeline to be taken up for the farmers.
Laltanpuii Vanchhong, director of agriculture and officials of the agriculture department were also present during the visit.
It may be  mentioned  that the PMKSY has been formulated with the vision of extending the coverage of irrigation 'Har Khet Ko Pani' and improving water use efficiency 'More Crop Per Drop' in a focused manner with end to end solution on source creation, distribution, management, field application and extension activities.
First Published:
Jan. 23, 2021, midnight