Awareness on 'Eat Right Challenge' held in Thoubal
More than 45 Food Business Operators (FBOs) of Thoubal District took part in the camp.
---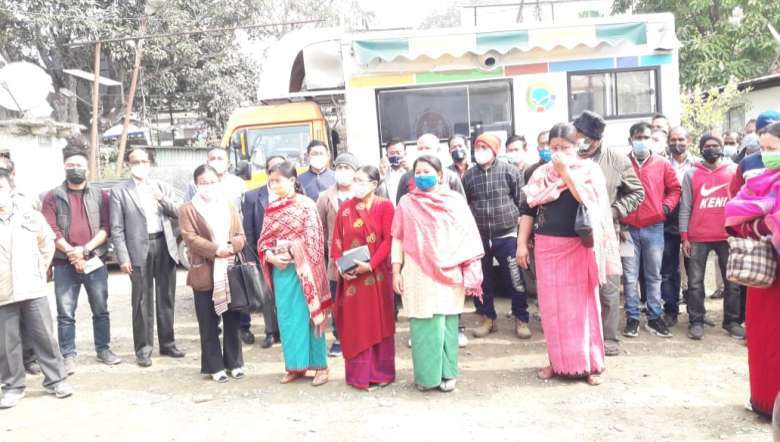 (PHOTO: IFP)
---
A special camp for consumer awareness and enforcement drive of the 'Eat Right Challenge' was held at the conference hall of Chief Medical Officer, Thoubal on Thursday.
The awareness program, organised by Food Safety Administration Thoubal under the chairmanship of Deputy Commissioner Thoubal, was attended by N Debendro, designated officer, Food Safety Thoubal, Ch Sanajaoba meitei, Food Analysis nodal officer, Food Testing Lab, Medical Directorate and Dr N Jayentakumar, CMO Thoubal as presidium members. 
More than 45 Food Business Operators (FBOs) of Thoubal District took part in the camp and were given awareness on Food Safety and Standard Act, 2006 and Rules and Regulation, 2011 by the food safety officials.
Video for testing common adulterants in food items and demonstration to detect adulteration with rapid testing were shown to the FBOs as a part of the awareness programme.
Speaking at the awareness programme, N Debendro said that Thoubal district is among the 197 cities/districts of the country to participate in the Right Challenge of Food Safety and Standards Authority of India (FSSAI). Imphal  East, Imphal West and Bishnupur District were also selected from the state for the same, he informed.
Debendro said that people consume packaged foods, including fish, meat, vegetables, without checking whether they are safe to consume or are verified by FSSAI.
Debendro also urged the people to inform the food safety officials if they feel unsure about the safety of packaged food or any food items so that the problems of food adulteration can be tackled successfully. He also urged the people of Thoubal and FBOs concerned to try at the best level to get the first prize in the competition. 
Ch Sanajaoba Meitei informed that every food business needs FSSAI licence or registration and added that failure to comply may attract penalty under Food Safety and Standards Act, 2006.
As a part of the camp, a vehicle which has been coined as "Food Safety on Wheels" was being demonstrated to the participating FBOs to enhance knowledge on preparing safe foods.The food safety officers also informed on the usefulness of the food safety on wheels to the FBOs.
Resource persons Laishram Basantarani, M Tech ( Food Engineering), Alex Sharungbam, Bishwajit from Intellisome Knowledge and Skill Center (IKOSC) Moirangkhom and Sougaijam Surendro, Nodal Officer FOSTAC delivered speech on food safety measures. 
Food Safety Officer Thoubal A.Brojendro, M.Dinesh, Food Safety Officer  Kakching Md.Altaf Hussain and other staff also attended the camp.
It may be mentioned here that the Food Safety and Standards Authority of India started 'Eat Right Challenge' - a competition for districts and cities across the country in 2020 with an aim to encourage people to make more nutritious choices in food consumption and district/city authorities to promote local foods and reduce the use of chemicals in food production.
First Published:
Jan. 21, 2021, 5:26 p.m.