YVU Financial Services Pvt Ltd receives Vijayalakshmi Das Award
The award winner was felicitated by Anurag Thakur, Minister of State, Finance and Corporate Affairs
---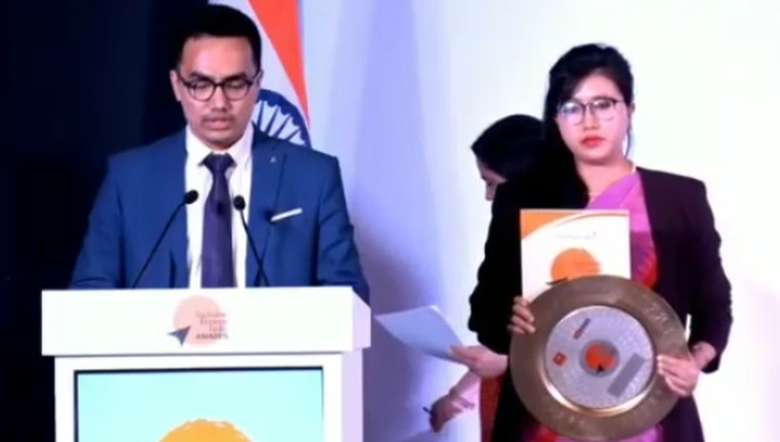 The YVU Financial Services Private Limited received the prestigious Vijayalakshmi Das Award for Small and Emerging Microfinance organisation under The Inclusive Finance India Award 2020.
The award presentation event was organised by ACCESS Development Services and HSBC India and held at Le Meridian in New Delhi on Thursday. 
The award winner was felicitated by Anurag Thakur, Minister of State, Finance and Corporate Affairs, Government of India. The award was received by Bikendrajit Akoijam, managing irector of the company. 
In his speech, the award receiver Bikendrajit mentioned that the award is a privileged and honour for the company. He further thanked the jury member and ACCESS Development Services for recognizing the effort of microfinance sector. This has indeed and inspired and motivated the company to contribute more to financial inclusion, he added.
It may be recalled, the parent organization YVU (Youth Volunteers Union) started as an NGO in 1970 and started microfinance operations in 1996. The company received NBFC-MFI in 2016 and currently the only NBFC-MFI based in Manipur. He further thanked the governing body of YVU, the Directors of YVU Financial, staffs, clients, lenders and investor for making this possible.
The objective of Vijayalakshmi Entrepreneurship Awards 2020 is to provide an awards and recognition platform to felicitate the Women Entrepreneurs of the micro, small and medium enterprise sector at the grassroots to honour the "Mother of Indian Microfinance"- Late Mrs Vijayalakshmi Das on her 69th Birth Anniversary.
First Published:
Jan. 21, 2021, 4:20 p.m.