Manipur Congress resolves to fight against BJP government's 'anti-people' policy
Congress party leaders resolved to fight 'all the fascist forces suppressing the voice of the people' in Manipur.
---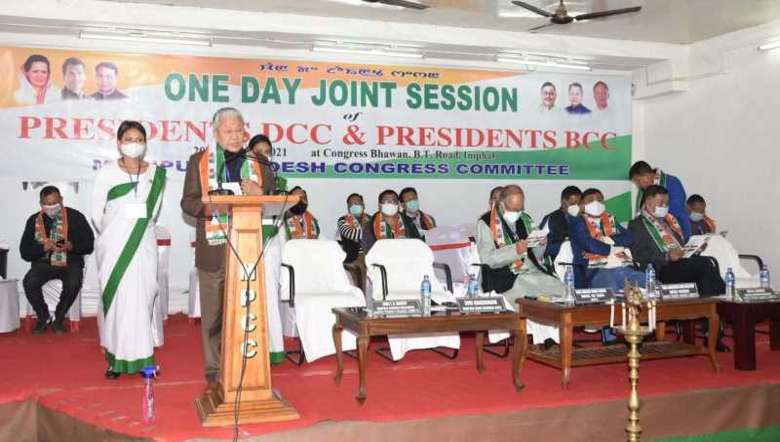 (Photo: IFP)
---
The Manipur Congress party in a joint session of party committees has resolved to fight against the "anti-people policy of the Bharatiya Janata Party-led government at the Centre and the state".
The joint session of District Congress Committees' presidents and Block Congress Committee presidents Manipur Pradesh Congress Committee was held at Congress Bhavan Imphal on Wednesday.
The party leaders also resolved to fight "all the fascist forces suppressing the voice of the people".
Speaking at the function, member of Congress Working Committee, All India Congress Committee Gaikhangam said that such sessions and meetings should be organised regularly to strengthen the party. He said party workers at the grass root level are the backbone of the party and as such, the party will become stronger when they build a good connection with the people.
Even if the Congress party is not in power, the relationship between the party and the public should be maintained at all cost, he said, adding that the Congress party is different and unique from any other political parties since it has been associated with the history of the country.
"It is a party based on democratic principles with a strong foundation and unlike other political parties, it does not work on the influence and popularity of an individual," Gaikhangam said.
A book highlighting the works taken up and the achievement of the previous Congress government in its 15 years' rule was released during the function.
Manipur Congress Legislature Party leader Okram Ibobi Singh, MPCC president Govindas Konthoujam, former president of MPCC Moirangthem Oken, Congress MLAs, and other members of the party attended the programme.
First Published:
Jan. 21, 2021, 11:20 a.m.