Relevance of Satyajit Ray
On the birth centenary year of Satyajit Ray, let's have a look at some of his epic films and relevance of it in current perspective.
---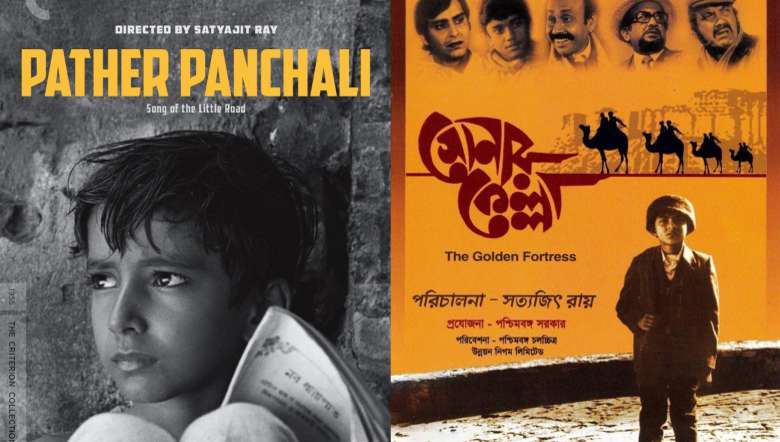 Pather Panchali: Debut film of Satyajit Ray which also serves as a path-breaker of Indian films establishing it in the international cinematic map. Might be based on a Bibhutibhusan Bandopadhyay story depicting the poverty-stricken life of a family in a remote Bengal village full of tragedies; yet not only it captured the attention of international jury, it touched the nerves of global residents of all possible linguistic cultural economic vintage. In upscale New York, the film ran for months with upper middle class to rich White Americans coming out from theatres with tears on eyes and lump in throats! Despite residing at the furthest distance from all characters of the film in geographical cultural or economic terms, they could connect with the film through hearts just because of the humanitarian angle --- the greatest and ultimate identity of all.
Ray's gallant march remained  unabated with 'Aparajito' 'Debi' 'Jalsaghar' to mention a few with shower of recognition and honours from all around the world. But far from paying respect to the new filmmaker creating waves through art bordering on humanity, a certain Rajya Sabha MP (herself a former Bollywood star) condemned Ray on the floor of the House for "selling India's poverty" to "reap international awards"! Perhaps Ray would have done a great "national service" if he had made feature films on the background of Bhakra Nangal Dam or Steel plants glorifying it instead of portraying his helpless characters suffering the pangs of  acute poverty superstition and other ills plaguing billions of our own fellow citizens! No doubt  the dams and steel plants were  indeed "temples of  Modern India" as rightly said by Jawaharlal Nehru, but no lesser truth were the cries and pains of the vulnerable downtrodden lot. In a nutshell, it was desired by the concerned MP that Ray should sweep all failures and deficiencies of India under the "nationalist" carpet! The same mindset of hiding India's failures still exist; the only difference being that now positive developments benefitting the society as a whole have yielded place to gigantic statues, Ram Temple, Saraswati river or Bullet trains! But in this age of universal technological connection, no "elitism" of Mars Orbit or "might" of Mass Yoga can succeed in sweeping the pathetic rankings of India in all social indexes --- be it Human Development, Global Hunger or Corruption Perception – under any carpet! Not to forget millions languishing as child or bonded labour! So despite antipathy towards "anti-nationalist" Ray, the hard reality remains that  billions of Indians still continue to lead a hell-like existence making his humanitarian stories revolving the social ills still very much relevant.
Ghare Baire: Based on Rabindranath Tagore novel with the era of the story revolving  around 1905 partition of Bengal. Repeatedly it was stressed that poor Muslim sellers not be economically tortured by the swadeshi brigade in the name of burning foreign goods as it would give rise to the poison named communalism and if fire gets ignited, it would result in a catastrophe. And exactly that happened with the end being gory Partition of Bengal and India. Apart from rest of India where swadeshi brigade and foreign goods have replaced cow vigilantes and beef today, even in Bengal crude communalism is being injected very very shrewdly. The perspective of Ghare Baire is getting repeated exactly. Whether we would learn our lesson from history or not lie simply in our hands.
Ganashatru: A doctor and his family faces Himalayan psychological ordeal thanks to the atrocities by the vested interests. While the doctor was pointing out the ill-effects of contaminated water in a temple complex, the temple and municipal authorities were bent on proving that there lies no danger as "Tulsi leaves kill all germs of water"! What a similarity to this era of "unique" benefits of cow urine and black magic along with murder of rationalists like Narendra Dhabolkar who dare to protest against it!
Sakha Prasakha: Film depicted the absolute social acceptance of corruption. Indeed today purchasing tickets for cricket matches in an inflated rate through black market or paying bribes amounting to several lakhs to purchase seats in educational institutions are  matters to boast about!
Agantuk: The swansong of Ray dwelling on  the intolerance in the name of religious divide, annihilation of indigenous people and culture by the marauding market force and wondering whether technological advancement of missiles and deadly ammunitions  can really be termed as "advancement of civilization"!
And last, but not the least the "children film" named Hirak Rajar Deshe (In the land of Diamond King)! The subjects are literally succumbing to drastic poverty and hunger. Yet far from taking minimum initiative to uplift the poor; they are barbarically exploited in diamond mines and the resource of the Kingdom gets squandered on building a gigantic statue of the megalomaniac King! No prizes for guessing  the relevance of this film in today's context!
Satyajit Ray might have left this mortal world in physical sense 28 years ago. But still he is very much relevant and living through his immortal films and therein lies the greatness of the Oscar winner.
First Published:
Jan. 20, 2021, 1:51 p.m.