Women vendors suffer loss of around Rs 3,879 crore during pandemic in Manipur
According to the Imphal Municipal Corporation, there are altogether 6,522 licensed vendors
---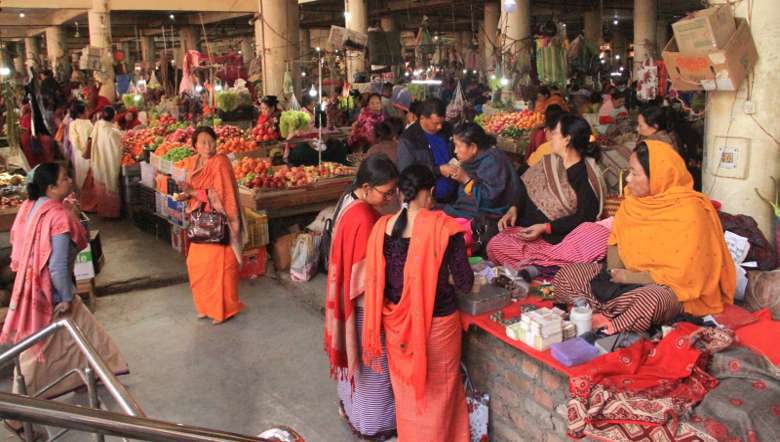 A scene at Khwairamband Ima Market, Imphal before pandemic (PHOTO: IFP)
---
Attention of authority concerned has been sought to extend financial support to vendors or reopen their market with strategic precautionary measures, as women vendors of Khwairamband Ima Market have suffered an estimated loss of around Rs 3,879 crore due to the pandemic.
In a press conference held at Manipur Press Club in Imphal on Tuesday, Social researcher Tondana Serto said that Manipuri women play an important role in uplifting the socio-economic status of the state.
According to information received from Imphal Municipal Corporation, there are altogether 6,522 licensed vendors. Of the total, 3614 vendors belong to Khwairamband Ima Market; 1,690 vendors belonged to Puranakeithel; 728 belong to Laxmikeithel; 1,1196 belong to New Market, Serto said, adding it has been almost 304 days they have not opened their shops due to the lockdown.
As per the directorate of Economics and Statistics, government of Manipur, the state domestic product is Rs 353 per day, he said. As per the data, the total economic loss faced by these 3,614 vendors per day is Rs 12,75,742. Therefore, the loss incurred in 304 days is Rs 3879 crore, he added.
Serto said that shutting down the women's market also helps in controlling the pandemic. As such, the state government should appreciate the courage of women vendors who are encountering the economic loss on their own till date.
 Keeping in view of the role played by women in improving the socio-economic activities of the state, the state government should arrange a means to provide some sort of support, he added.
As the pandemic has been relaxed to some extent now, the state government should take up initiatives for reopening the market with some precautionary provisions, he suggested while asserting that keeping the condition of women vendors like this for such a long time is not good for the economy of the state. 
First Published:
Jan. 19, 2021, 10:35 p.m.