Hand grenade hurled at Manipur governor's bungalow in Imphal
Some miscreants hurled a hand grenade at Manipur's Raj Bhavan in Imphal on Tuesday
---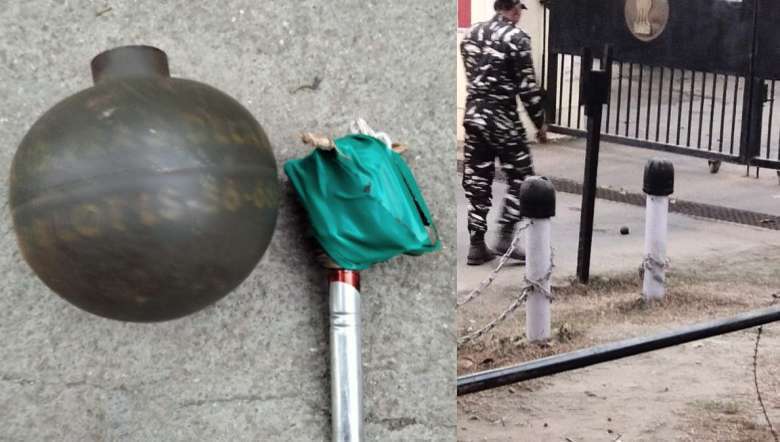 (PHOTO: IFP)
---
Miscreants hurled a hand grenade at Manipur's governor bungalow around 4 pm in Imphal, according to police sources.
However, the bomb did not explode, the sources said, adding that CRPF bomb experts posted at governor bungalow diffused the bomb and handed it over to City police for further necessary procedures. Officer-in-charge of the City police station along with some police officers rushed to the spot and checked CCTV camera footage installed at the bungalow gate.
(PHOTO: IFP)
As per police source, the CCTV camera footage showed that two persons in a moped came from Keishampat junction and hurled the grenade. They fled along the Asian Highway-2 towards Kangla Western gate. Police claimed that the grenade is a Chinese made hand grenade.
The bungalow is guarded by CRPF personnel round the clock and it is a high security zone. Till the filing of this report, no underground organisations have made any claim regarding the incident. 
A case has been registered at the police station concerned for investigation. To avoid such unwanted incidents in the city area, the state government had already installed numbers of CCTV cameras.
Meanwhile, in view of the upcoming Republic day celebration, a team of district commando, Imphal West conducted house to house search operations at Haobam Marak Irom Leikai and Lourembam Leikai from 6am to 8am on Tuesday.
The operation was led by inspector Hemchandra under the supervision of additional superintendent of police (Ops). During the operation, about 130 houses were searched and 165 individuals were verified. No individuals were detained during the operation.
First Published:
Jan. 19, 2021, 5:36 p.m.