'Driving licence should be issued after strict procedure of driving test'
Safety of people needs to be taken care as human lives are precious, Manipur chief secretary Rajesh Kumar said.
---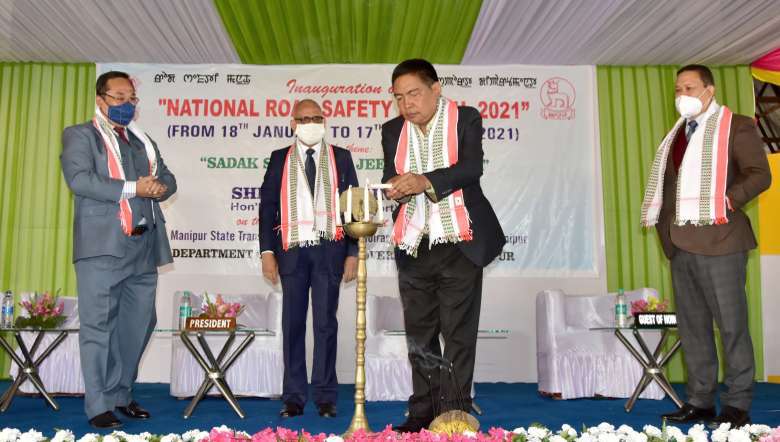 With increase in road accidents in the country, driving licence is also easily obtained despite having driving tests, and there is a need to give licence to any person after strict procedure to handle out the driving licence, said chief secretary Government of Manipur Rajesh Kumar.
He made the statement on National Road Safety Month, 2021 observation function held at Manipur State Transport (MST) complex on Monday.
He said that there are various factors causing road accidents, may be from road infrastructure, vehicle safety, training level of motor vehicle drivers, behaviour of pedestrians, social habits. However, safety of people needs to be taken care as human lives are precious. Alcohol or intoxicants driving may also cause accidents and another issue of accidents is mobile phones while driving, he added.
He also suggested a cycle track on road and well footpath side to be maintained, as road accident victims most of the time are pedestrians or cycle drivers.
He announced that NHIDCL has approved 16,000 crores for road construction; out of that 20,000 crores are in pipeline for construction. He further said that tenders have been obtained for a new national highway, as Imphal Kangchup Tamenglong road is speeding up and Tamenglong to Haplong. In three years two, there will be four national highways in the state, he added.
Transport minister, Vungzagin Valte said that there will be speed guns to measure the speed of vehicles in the state. He said that road maintenance is under underway by PWD and the transport department can give campaigns and exercise safety of valuable life. While issuing driving licences, some private societies should be careful on issuing the licences, he added.
He said that to follow the rules and regulations while driving for safety, do not ignore wearing a helmet. Using mobile while driving should be strictly stopped and maintain the speed limit.
The National Road Safety Month, 2021 was also attended by, DGP Manipur, LM Khaute.
During the programme certificates and memento to traffic police personnel, transport enforcement, media persons, NGOs in recognition of their distinguished service in road safety activities was distributed.
First Published:
Jan. 18, 2021, 11:01 p.m.