Indonesia earthquake death toll reaches 81
A powerful earthquake of 6.2 magnitude on Richter Scale rocked Indonesia's Sulawesi island in the early hours of Friday.
---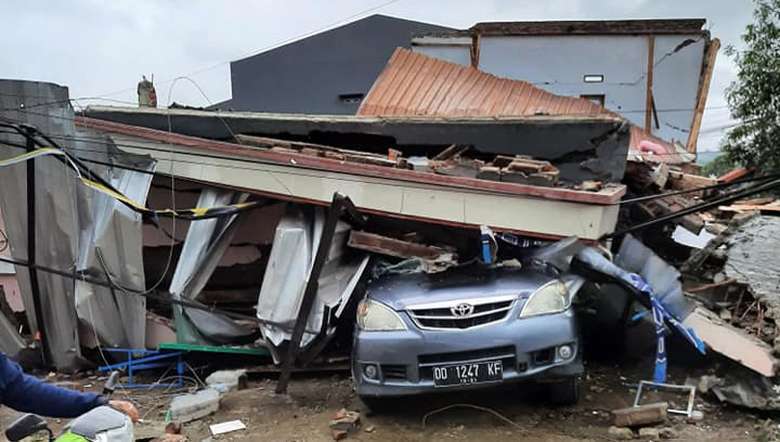 (PHOTO: Facebook)
---
The massive earthquake that hit Indonesia's Island of Sulawesi last week has killed at least 84 people and displaced more than 30,000, according to the search and rescue agency (Basarnas) data on Monday.
Addressing a press conference, Basarnas official Didi Hamzar said that 84 people were confirmed to have died, even as the search and rescue operations continued on Monday. 
Meanwhile, Raditya Jati, the National Disaster Mitigation Agency's spokesperson said that more rescuers and volunteers were deployed in the worst-hit city of Mamuju and the neighbouring district of Majene on Sulawesi Island, where the 6.2 magnitude quake struck early Friday.
He said a total of 70 people died in Mamuju and 11 in Majene, and about 27,850 survivors were moved to temporary shelters. Nearly 800 people were injured and more than half of them are still receiving treatment for serious injuries, he said. 
The spokesperson said that drinking water, food and medical supplies were being distributed from trucks. Five military planes carrying rescue personnel, food, medicine, blankets, field tents and water tankers have reportedly been sent for the rescue operations.
Jati also said at least 1,150 houses in Majene were damaged and the agency is still collecting data on damaged houses and buildings in Mamuju.
The disaster agency said the evacuees are in dire need of basic necessities like blankets, mats, tents, baby food and medical services.
The disaster agency's chief Doni Monardo said authorities were trying to separate higher and lower risk groups and provided tens of thousands of anti-coronavirus masks for those needing shelters. He said authorities would also set up health posts at the camps to test people for the virus.
According to the Reuters, more than 300 homes and two hotels were damaged by the natural disaster. The earthquake and aftershocks had also destroyed a hospital and the office of a regional governor, where authorities said many people were stuck under the rubble of collapsed buildings.
The earthquake was so powerful that it caused three landslides along the main road connecting Majene and Mamuju.
Tremors were felt at around 01:00 local time on Friday (17:00 Thursday GMT) for about seven seconds. No tsunami warning was issued but thousands are reported to have left their homes, fleeing to safety. Authorities have warned that strong aftershocks could follow the two main quakes and that they could still trigger a tsunami.
Indonesia lies on the Ring of Fire - a line of frequent quakes and volcanic eruptions on the Pacific Rim. Thus they experience frequent seismic and volcanic activity. 
Earlier in 2018, a powerful 7.5 magnitude quake hit and a subsequent Tsunami in Palu on Sulawesi that left more than 4,300 people dead or missing.   
ALSO READ:
First Published:
Jan. 18, 2021, 5:54 p.m.