Road Safety Month: Cycle rally launched in Imphal
The road safety month will commence from January 18 to February 17 under the theme 'Sadak Suraksha Jeevan Raksha'.
---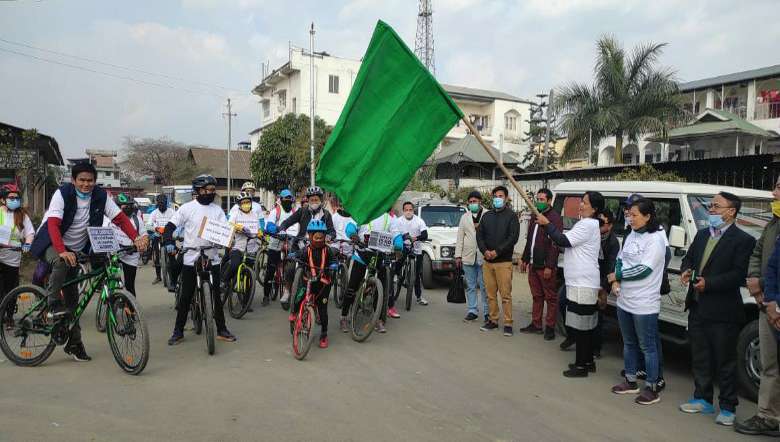 (Photo: IFP)
---
Manipur Adventure and Mountain Biking Association (MAMBA) on Sunday organised a cycle rally on the inaugural day of road safety month to be commenced from January 18 to February 17 under the theme 'Sadak Suraksha Jeevan Raksha'.
Director state transport, Nivedita Lairenlakpam flagged off the cycle rally in the morning from Manipur State Transport (MST) complex located at Moirangkhom, Imphal West near Kalimai temple. The rally was headed towards Raj Bhavan via CM bungalow along Asian Highway-2.
After reaching North AOC, it continued towards Khongnang Ani Karak and further to Nagamapal after crossing Shamumakhong, Wahengbam leikai along National Highway-37.  It moved towards Tera bazaar and took a turn to Sagolband Sayang Pukhri road, Kwakeithel traffic crossing, Khagempalli, Keishamthong bridge, Krishna Premi Oil pump and concluded at MST complex, Moirangkhom.
The cyclist who took part in the rally displayed placards that read 'slow down for a happy town', 'drive carefully', 'speed down save lives' among others. Superintendent of police, traffic KS Sarma also took part in the cycle rally.
She had mentioned earlier to the IFP during an interview that most of the road mishaps are caused by negligence in following traffic rules. Traffic police had conducted various drives against traffic rules violators, but most people have a habit of taking shortcuts from the wrong side in crossing the road.
Driving on the wrong side of the road, minors on the wheels and disobeying of traffic signals are some of the main causes behind unwanted road accidents, she said.    
First Published:
Jan. 17, 2021, 11:19 p.m.