India's Covid vaccine scenario: Why must we stick to 3 Ws and 3 Cs bronze bullets?
In Manipur, at this critical point of the pandemic, the common people's behaviour will determine the trajectory of Covid-19.
---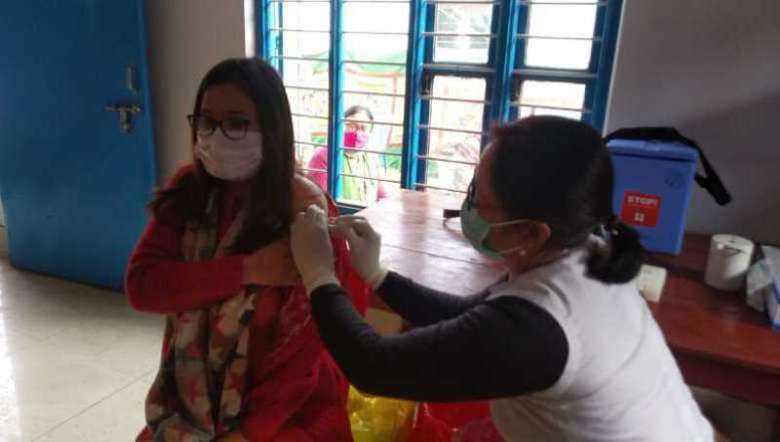 (PHOTO IFP)
---
While scientific minds are already engrossed with how to deal with the two highly infectious SARS-CoV-2 variants: the UK strain and the South African one, there is now a recent report on a third strain, the Brazilian (South American) variant. It's as if nature is testing human ingenuity and coordinated commitment to the extreme limit!
While three-four vaccines have been approved in a record time of less than a year, just when things seem to be within control, three coronavirus mutants are posing a big challenge to global public health.
The UK variant has already wreaked havoc in England, causing a massive surge in the number of infections and hospitalizations, leading to a drastic increase in the number of deaths. According to a report in the BBC News (Jan. 16, 2021), the UK strain has now become dominant coronavirus in Britain and has spread to 50 other countries.
A glance at the South African variant
The South African variant has been detected in 20 other countries including the UK. As of today, 116 people have been found infected with the UK strain in India!
Dr Nuno Faria and his team from Manaus, Brazil, discovered the South American variant and the preliminary findings were published in a website (www.virological.net/) on January 12, 2021. The new strain has now been named P.1 (Science, Jan. 15, 2021). It probably can elude the human immune response elicited by the classical SARS-CoV-2 virus that was raging earlier in Brazil. The UK variant, B.1.1.7. is already spreading rapidly in the UK, Scotland, and Denmark and, maybe, also in many other countries.
The South African strain, 501Y.V2, carries the critical mutations-E484K and K417N-which affect the viral spike protein and may affect how the immunity from natural infection or vaccination may deal with the mutant coronavirus. In fact, all three variants observed so far can potentially affect the shape of the spike protein, and if the virus mutates further, this may lead to 'vaccine escape mutants' that cannot be stopped in the track by vaccines released so far.
The Brazil variant also has the mutation that affects the spike protein, E484K, that's also found in the South African variant but not in the UK strain. Scientists are of the view that this E484K mutation enables the virus to elude immune protection, leading to vaccines becoming ineffective, thus triggering the need to re-design or tweak the COVID-19 vaccines.
Indian Vaccine Scenario
India has so far granted conditional approval for 2 vaccines: CoviShield and Covaxin.
A hopeful development is that the vaccination campaign began in India on January 16, 2021. The government has procured 1.1 crore CoviShield doses and 55 lakh Covaxin doses (India.com, Jan. 16, 2021). The plan is to give the 2-shot vaccine jab to 30 crore (300 million) Indians in the next six months. This initial set belongs to three priority groups: about 1 crore healthcare workers-doctors, nurses and paramedical staff; two crore frontline workers; and 27 crore older people, aged above 50 and those with co-morbidities, e.g. diabetes, heart, and liver diseases etc. As both the approved vaccines need two shots, this will entail 60 crore (=600 million) vaccine doses for covering the first phase of vaccination in India. Then only, vaccination of other groups, i.e. those below 50 years, children, and pregnant women etc. would be considered. That means, most probably, vaccination of all sections of the population in India would continue well beyond 2021. So, strict observance of the non-pharmaceutical interventions (3 Ws and 3 Cs) would still be needed throughout 2021!
As per a write-up by Akshita Saxena (www.livelaw.in/, Jan. 16, 2021), amidst the heartening development of vaccine rollouts, a social activist named Saket Gokhale has moved the Bombay High Court, urging for safety and efficacy data of the Bharat Biotech (BB) vaccine, Covaxin, submitted to Drug Controller General of India (DCGI) to be made public.
Saxena contends that the vaccine is still in phase 3 of clinical trial and hence, there remains a great possibility of harm to the life of members of the general public that are being administered this vaccine. His plea further argues that "This means that every person that is administered M/s Bharat Biotech's "Covaxin" will technically be seen as a participant in the company's Phase 3 trial process."
The petitioner further argues that with lack of information in the public domain regarding the safety and efficacy of clinical trials of Covaxin, it is impossible for anyone to provide an informed consent thus exposing recipients to two risks:
1. Either take the vaccine & bear the consequences or
2. Remain unvaccinated and make yourself susceptible to a Covid-19 infection.
The results of the phase three trial of Covaxin is expected to be released by mid-March and the results extrapolated from one or two studies of Covaxin and data from vaccines built with the same platform used by this vaccine may lead us to expect a good safety and efficacy profile of BB's Covaxin, as and when the data are peer-reviewed and published.
The Perplexing Questions
How effective is a single vaccine dose?
As the UK and some other countries are planning to use a single jab or postpone giving the second shot for a long time, we need to understand what effects a single dose have on a recipient? Most vaccines e.g. MMR-measles, mumps, rubella-vaccine require a 2nd booster dose. It was found that, around 40 per cent of people who got just one dose are not protected from all three viruses, compared to four per cent of those who have received the second dose. People in the former group are four times more likely to catch measles than those in the latter group.
How do booster doses work?
When our body encounters a vaccine, it activates two kinds of white blood cells: B and T cells. The activated B cells produce antibodies that try to neutralize the viral pathogen. However, this cell type is short-lived and the antibody titre in the blood of the vaccinated (given first shot) person may wane within just a few weeks, without the 2nd shot.
The other type of cell that's stimulated by the vaccine is the T cell, which is armed to target a specific pathogen and kill it (often killing virus-infected cells along with viral pathogens). A subset of these activated cells forms the memory T cells and they can linger around in the body much longer than antibodies or activated B cells. But, unless you get a booster jab, you would not accumulate a sufficient pool of memory T cells (and memory B cells) to generate an adequate immune response against the pathogen.
According to clinical trial results of most COVID-19 vaccines, the immunity mounted by the body after vaccination with a single dose isn't usually adequate to fight the pathogen. For example, the Pfizer vaccine data published in Dec. 2020 (NEJM, Dec. 31, 2020) indicated that it's only 52 per cent effective after the first dose (BBC Future, Jan. 15, 2021). This shoots up to 95 per cent after receiving two doses, i.e. the Pfizer vaccine is 95 per cent effective in preventing the disease one week after getting the second shot.
It's important to note here that, after getting the first jab, the protection doesn't kick in until after day 12!
The pandemic won't end overnight
As an editorial in the prestigious medical journal, The Lancet Microbe (Jan. 1, 2021) says, "Vaccines will be instrumental in the control of COVID-19, but their global distribution will be challenging and their effect won't be immediate." Though the vaccine rollout has begun in several countries, many poor nations will still be out of the vaccine protection ring, till a global facility such as COVAX procures enough doses for distributing free or at low cost to low-income countries. It may probably take a few years to fully reign in the virus worldwide. Till then, non-pharmaceutical interventions to contain the tricky coronavirus must remain in place across the globe.
So, in the meantime, we must not let our guards down and we must still strictly observe the non-pharmaceutical interventions such as the major SOPs of the use of face masks, physical distancing, and hand hygiene and avoidance of 3 Cs: crowded places, close-contact settings, and closed spaces (with poor ventilation).
The Bronze bullets - 3 Ws and 3 Cs
The silver bullet for Covid-19 is an efficacious, safe, and affordable vaccine and/or drug. But we don't have it yet. But as Derek Thompson writes in The Atlantic magazine (Oct. 12, 2020), there are "bronze bullets abound." The 3 Ws (watch your distance, wear a mask, and wash your hands regularly) and 3 Cs (avoidance of crowded places, closed contact settings, and closed spaces) are some of these bronze bullets. At this critical point of the pandemic, it's we-hoi Polloi, common people-who with our (in)appropriate behaviour will determine the trajectory of Covid-19 in Manipur. Once again I humbly appeal to fellow citizens to abide by the 3 Ws and 3 Cs guidelines strictly!
(The views expressed is the writer's own)
First Published:
Jan. 17, 2021, 4:52 p.m.