Institutions should take parents' consent before allowing children in schools: Minister Rajen
Manipur Education Minister S Rajen has said that negative COVID-19 reports will be mandatory for school hostellers.
---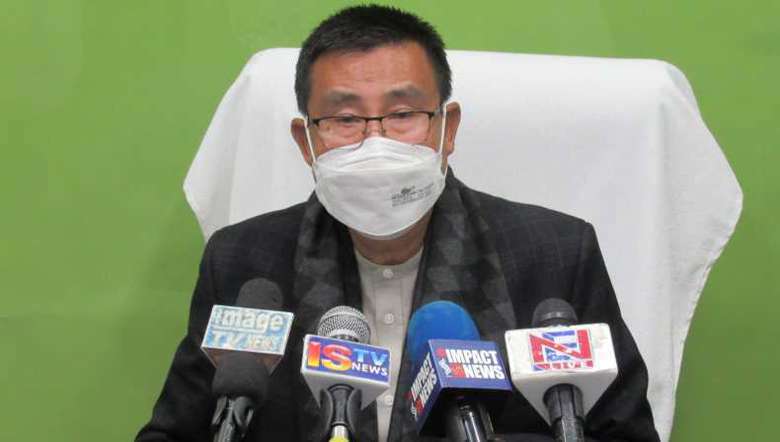 Manipur Education Minister S Rajen
---
Heads of schools and institutions have to take consent from parents and guardians who are willing to send their children to schools or hostels for allowing them to attend physical classes which will resume from January 27 in Manipur, Education Minister S Rajen said on Saturday.
Rajen was speaking in a press conference held at Old Secretariat building, Babupara, Imphal on Saturday.
Rajen said the decision to reopen schools was made during the state cabinet meeting held at Senapati district headquarters on December 9, 2020, but the exact date for reopening of schools was not decided. However, the state cabinet meeting at Kamjong headquarters on Friday gave the approval to reopen schools for classes 9-12 and educational institutes by following strict Standard Operating Procedures (SOPs) from January 27, he added.
For the sake of students, other states in the country have opened their schools and the state government has decided to schedule the common examination for class X and XII at the usual time of the year as before.
Online classes will continue for class I to VIII. The physical or offline classes will resume for class IX to XII. Physical classes for class IX and XI will be conducted in the morning shift and Class X and XII will resume normal school hours by maintaining certain SOPs, he added.
Rajen further said for hostellers only COVID-19 negative report holders will be allowed to enter hostels including the wardens. Specific school management will be established for each school to monitor the situation of the schools, he said. From time to time, the education minister himself will inspect the schools and colleges, the Education minister said.
The approved SOPs or guidelines have been circulated to all ZEOs, school authorities in the state and all concerned are advised to start preparing campus by conducting a cleanliness drive before the schools reopen.
It is said that the SOPs or guidelines are uploaded at the department's official website www.manipureducation.gov.in
All the educational institutions of Manipur have remained closed since March 12 of last year due to the pandemic. During the shutdown, online classes were conducted by almost all the schools and colleges.
Central Board of Secondary Education (CBSE) has already notified that its board examination for class X and XII will be held from May 4, 2021. Practical examinations, projects and internal assessment of class X and XII will start from March 1, 2021.
Meanwhile, the Education minister further said that he attended the World Education Conference (WEC) where different states of various countries also took part. During the conference, educationists, teachers, professors and other officials exchanged ideas, he said. Such conferences need to be organised in future so that the education sector could develop easily, he added.
First Published:
Jan. 16, 2021, 8:46 p.m.