Tamenglong: COVID-19 vaccination drive launched successfully
CMO Dr Chambo Gonmei was the first beneficiary of the vaccine in Tamenglong district.
---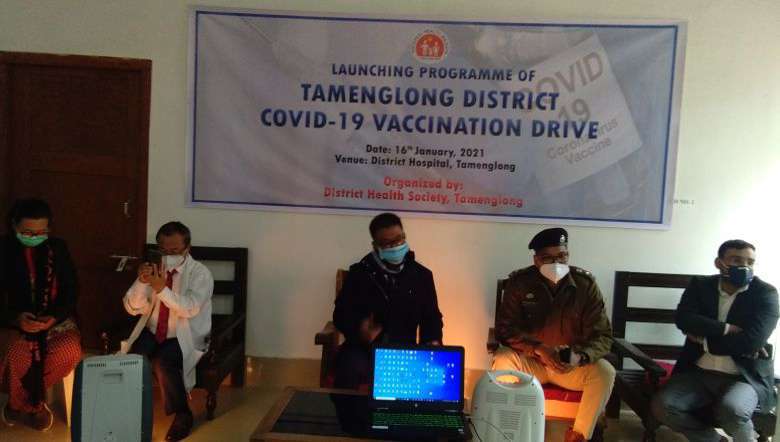 (PHOTO: IFP)
---
As the COVID-19 vaccination drive was rolled out across 10 sites in Manipur on Saturday, the launching programme in Tamenglong was held successfully at district hospital Duigailong in Tamenglong.
Speaking as the chief guest of the event organised by the district health society, district Deputy Commissioner Armstrong Pame congratulated and thanked the medical team who fought the COVID-19 pandemic and saved the lives of many people.
Superintendent of Police Tamenglong Mohurle Sandip Gopaldas and chief medical officer Tamenglong Dr Chambo Gonmei attended as a guest of honour and president of the function respectively. Others present at the programme included WHO consultant Dr Rajendra Kumar Singh, Sub-Divisional Officer Tamenglong Mahesh Chawdhuri and ADM Tamenglong Kajaigai Gangmei.
The District Health Society Tamenglong has identified 1138  beneficiaries for the first phase of the vaccination.
CMO Dr Chambo Gonmei was the first beneficiary of the vaccine in Tamenglong district, followed by district immunisation officer Dr Sunil Kamei and Noney district CMO Dr Gracy Majachunglu. 
Speaking to media persons, Dr Sunil Kamei said, "COVID-19 vaccination "COVISHIELD" will help boost the immune system". The vaccine, however, is not recommended for below 18 years of age and pregnant women, he said.
Dr Sunil explained that after the second dose a person will start an immune response and it is recommended that once a person is vaccinated, he or she must get a second dose within four-six weeks. He, however, said for how long "Covishield" can protect a person from COVID-19 is uncertain.
ALSO READ: 
First Published:
Jan. 16, 2021, 7:58 p.m.