Chief Minister N Biren rolls out COVID-19 vaccination drive in Manipur
The first COVID-19 vaccination drive in Manipur was launched at JNIMS, Imphal
---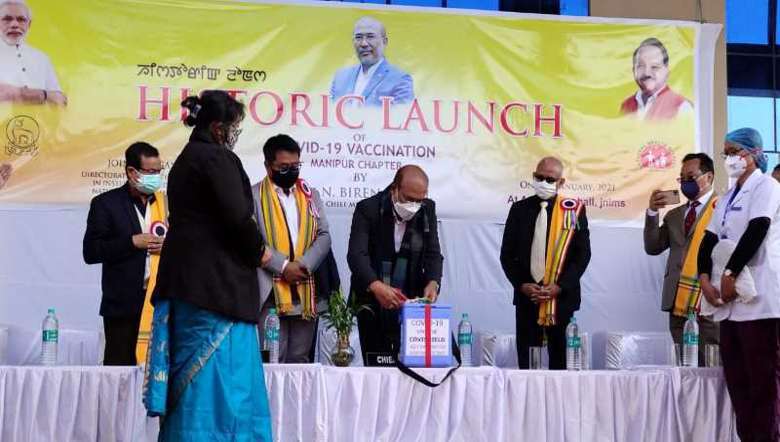 Chief Minister N Biren launches COVID-19 vaccination drive in Manipur on January 16, 2020 (Photo: IFP)
---
Manipur Chief Minister N Biren on Saturday launched the much-awaited COVID-19 vaccination drive in the state at the Jawaharlal Nehru Institute of Medical Sciences (JNIMS), Imphal. All should appreciate scientists, experts, researchers who were involved in producing the vaccine, he said during the launch.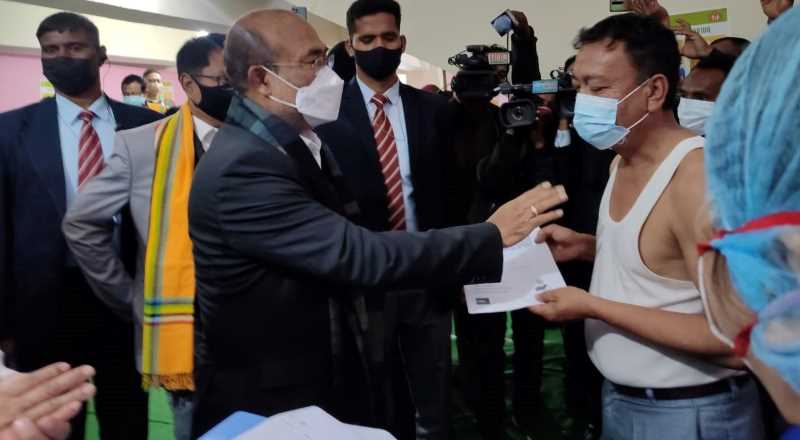 The first beneficiary of the vaccination was an attendant at JNIMS, from Khurai in Imphal East.
Dr Th Bhimo, director, JNIMS in Imphal East, and Dr Santa Ahanthem, director, RIMS in Imphal West, were among the first health professionals who received the vaccination on day-one of the COVID-19 immunisation programme.
Terming the launch of the vaccine as a historic moment, the chief minister said that a total of 9,617 healthcare workers of the state will be vaccinated at 10 sites across the state in the first phase.
"Historic #COVID19Vaccination starts in Manipur today as it is being done all over India. 9617 health care workers of the State will be vaccinated at 10 sites all over the State in the first phase. #LargestVaccineDrive," CM Biren tweeted.
Addressing the state at the event, the chief minister appealed to the people of the state to avoid spreading negative comment about the vaccine. He also said that stern action will be taken against people making negative comments in social media.
"It is unfortunate to spread wrong and negative comment on the vaccine as it is being produced after much research, observation and analysis. The state will start taking stern action against those who give negative comment about the vaccine without any scientific reason, in social media," Biren said.
Biren said the COVID-19 pandemic has caused an untold loss of lives and hardships to the people, but it has also taught the world several lessons.
"The COVID-19 pandemic might be the curse on man for the destruction of nature. Many people have died due to the pandemic. However, it has taught many lessons, particularly "the sense of humanity," he said.
Wishing a COVID-free life to all, Biren expressed the hope that the pandemic would go away and the Covid vaccination programme would usher in a new life with new lessons to all.
ALSO READ
First Published:
Jan. 16, 2021, 11:45 a.m.