PM Modi launches COVID-19 vaccination drive in India, says do not forget to take second shot
Prime Minister Narendra Modi paid tribute to frontline workers in the fight against the novel Coronavirus pandemic across the country.
---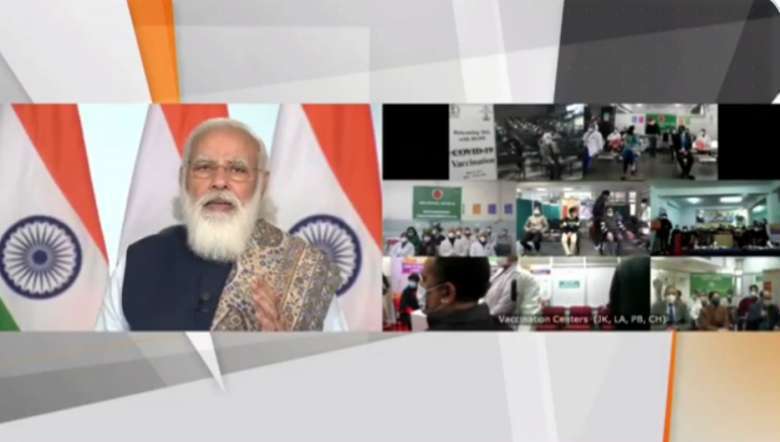 Prime Minister Narendra Modi on Saturday launched the nationwide COVID-19 vaccination programme in India and paid tribute to all frontline workers in the country in the fight against the novel Coronavirus pandemic that has claimed over 1,52,000 lives so far.
Frontline health workers and coronavirus warriors across the breath and length of the country are the first beneficaries of the vaccination drive that was virtually launched by the prime minister at 10.30 am from the national capital.
PM Modi said in a tweet, "India begins the world's #LargestVaccineDrive. This is a day of pride, a celebration of the prowess of our scientists and hardwork of our medical fraternity, nursing staff, police personnel and sanitation workers. May everyone be healthy and free from illness".
All the 3006 sites for the vaccination drive across all states and Union territories in the country was virtually connected during the launch. Over three lakh healthcare workers will be vaccinated on the first day of the vaccine drive and 100 people at each site will be inoculated per day, Union Health Minister Harsh Vardhan said.
While launching the biggest vaccination drive, PM Modi thanked scientists for developing COVID-19 vaccines in less than a year. 
Normally, it takes years to develop a vaccine but two "Made in India" vaccines are already developed in such a short span of time, PM Modi said. 
The PM reiterated the importance of taking two doses of the COVID-19 vaccine. Do not forget to take the second dose, immunity develops only after the second dose, PM Modi said, adding that there should be a gap of a month between the two doses, as experts have said. 
The Prime Minister further appealed to the people to follow the SOPs, to continue maintaining social distancing and wearing masks. 
"Do not take off masks, maintain social distancing, even after being vaccinated with the first does," PM Modi added. 
PM Modi also expressed his gratitude to the healthcare workers and front liners, including doctors, nurses, paramedics, ambulance drivers, ASHA workers, sanitation workers, police, who risked their lives and performed their duty. 
"The #LargestVaccineDrive that started today is guided by humanitarian principles. That is why the vaccination drive first covers those who need it most, those who are tirelessly working on the frontline," PM Modi tweeted.
First Published:
Jan. 16, 2021, 11:06 a.m.