CM Biren pays maiden visit to Kamjong, inaugurates 12 projects
The chief minister said that the 'Go to Hills' Mission was introduced to achieve equal development in all parts of the state, provide equal opportunity to all the people.
---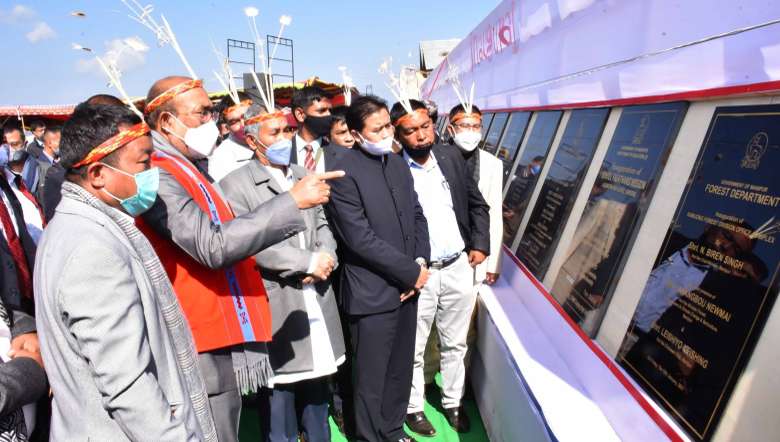 Manipur Chief Minister N Biren Singh made his maiden visit to Kamjong district headquarters along with his Cabinet Ministers on Friday,  continuing the state government's  'Go to Hills' mission. During his visit, the chief minister inaugurated different developmental projects and laid the foundation stones for many others, apart from presiding a State Cabinet meeting.
Biren was given a warm welcome at the newly created district in a Bell-412 helicopter at around 10:30 am. A colourful reception function was organised in his honour at Kamjong Public Ground.
Later, he inaugurated 33/11 KV Sub-Stations of Nambashi, Nampisha and Gamnom villages, temporary office of SP, School Fagathansi of Kamjong High School, Augmentation of Water Supply at Lairam Khullen and Khongjal under Jal Jeevan Mission, Kamjong Forest Division Office Complex, Works under BADP (Model Village) at Nampisha, Rain Water Harvesting at Ramrei, Rehabilitation Houses of Chassad village, Barrack Type Quarter and Health and Wellness Centre at Phungyar PHC, One Stop Centre (Sakhi), Institutional Building and Health & Wellness Centre at PHC Kasom Khullen and Model Residential School at Kamjong under PMJVK.
The chief minister also laid the foundation stones for Ima Market at Kamjong, Khambi to Nongman road, Bailey Bridge over Changkhong river, Bailey Bridge over Tuyungbi river on Hongbai to Kangoi road, Bailey Bridge over Sandok river, Steel Truss Bridge over Maklang River on Chatru Khullen to Gambal road, Kambi to Nongman Road and Bailey Bridge over Maklang River on Leiting to Hangkau road.
Later, he also distributed CMHT, CMST, PMJAY and Old Age Pension cards and wheelchairs to selected beneficiaries.
Speaking at the gathering, Biren said that the 'Go to Hills' Mission was introduced to achieve equal development in all parts of the state, provide equal opportunity to all the people and retain mutual respect among them. The mission was announced in his maiden speech as a chief minister on March 15, 2017.
Since then, he along with cabinet ministers and officials of the state government has been visiting different hill districts to realize people's needs and understand their inconveniences, N Biren Singh said. He added that his government is thankful to the people of hill districts for warm welcome wherever they visit.
The chief minister stated that his visit to Kamjong district, earlier scheduled for December 16, 2020, was postponed due to a state function. For this, he requested the people of Kamjong to pardon him for the last minute postponement. He said that though he could not visit Kamjong in the first round of the Go to Hills Mission, developmental activities continued in the district in consultation with Hill Areas Committee Chairman and representative of the area, K Leishiyo.
He said that the Centre introduced the Hill Area Development Programme (HADP) at his plea. Stating that Tamenglong and Noney districts had received Rs 90 crore under the programme last year, the chief minister said that he had written to the Centre to implement the programme in other hill districts of the State as well.
Lauding the Public Health Engineering department for providing tap water to all the households of the district headquarters, the chief minister announced that the Executive Engineer concerned would be befittingly rewarded for this commendable work. He also expressed satisfaction for the works being taken in the power sector in the district. N Biren Singh also directed the officials concerned to complete ongoing construction works in the district before the onset of rainy season.
In the education sector, he announced that Kamjong High School would be upgraded to Higher Secondary apart from setting up a college at the earliest. He further said that upgradation of Kamjong CHC to District Hospital had already been included in the proposal for funding under North East Special Infrastructure Development Scheme (NESIDS).
Opening of PHSCs at Nambisha, Tangkhul Hundung and Ningthi had also been approved, he said and added that Samphung PHSC would also be upgraded to PHC under the funds from Multi Sectoral Development Programme (MSDP). Under the same programme, a Working Women Hostel having 31 rooms would also be constructed at district headquarters, he informed.
Further informing that branches of Central Bank of India and Punjab and Sind Bank would be opened at district headquarters, he requested the villagers to extend cooperation to the bank staff, who would come there to serve them. Stating that Kamjong shares around 103 km of border with Myanmar, the state government would submit a proposal to the North East Council (NEC) for opening of Border Haats at Skipe and Pilong. Directing the concerned officials to complete construction of Women's Market of the district by March this year, he urged the people to inform him if quality is not maintained in construction works.
Speaking at the occasion, deputy chief minister Y Joykumar said that unlike the past, Kamjong is now performing well in all the development indicators like roads, water and power supply.
Maintaining that people must be experiencing a positive change ever since the new government came to the State, he urged them to extend support to the government so that this change sustains.
In his speech, Power Minister and government spokesperson Th Biswajit said that inauguration of the 33/11 KV power sub-stations at Gamnom is a big achievement not only for the people of the area but for the entire state. He pointed out that with the inauguration of the sub-station, the power losses suffered earlier due to long transmission from Kamjong sub-station would now be minimized.
The minister further informed that construction of 5MW substation at Nambashi and Nampisha would be started at the earliest.
Construction of sub-stations at other places including Kachai, Chingai, Somdal and Sanakeithei would also commence soon, he added.
Earlier, deputy commissioner Hungyo Worshang made a PowerPoint presentation on the present status of various developmental works and schemes implemented in the district. 
First Published:
Jan. 16, 2021, 12:38 a.m.