Female electors crosses 10 lakh for first time in Manipur
Among  the total electors in the final roll, the number of male is 9,51,409, number of females is 10,06,581 and number of third gender is 97.
---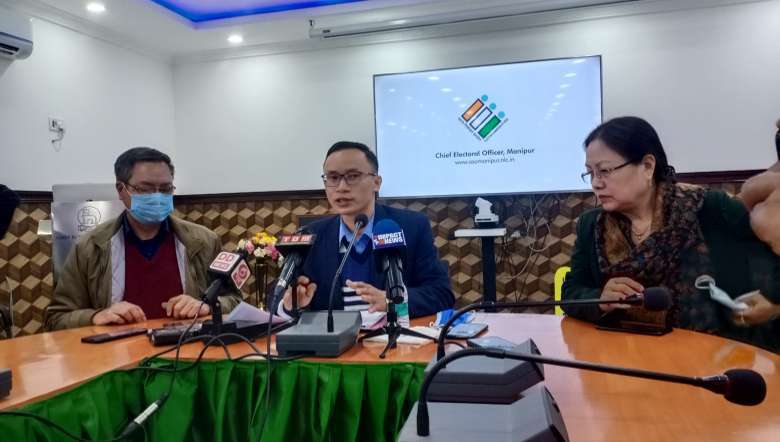 (PHOTO: IFP)
---
The number of female electors in Manipur crossed 10,00,000 for the first time and is more than the number of male in the integrated final photo electoral rolls of the 60 Assembly Constituencies of Manipur published on Friday by the concerned Electoral Registration Officers (EROs).
The total electors of the state as per final roll with respect to January 1 as the qualifying date is 19,58,087 and the number of electors in the drafted electoral rolls is 19,21,828, said joint chief electoral officer, Ramananda Nongmeikapam while speaking to the media on Friday at the office of CEO, Manipur, Imphal.
Among the total electors in the final roll of the special summary session, the number of male is 9,51,409, female is 10,06,581 and the number of third gender is 97, he added.
The joint CEO said that the total number of polling stations across the state as on final publication is 2,894, out of which 602 are in urban areas and 2,292 are in rural areas.
During the special summary revision, the commission received a total of 50,553 applications for inclusion of name in the electoral roll, out of which 47,301 were enrolled, he said.
The commission also received a total of 11,855 electoral roll objection applications and out of which 11,042 electoral rolls were deleted, he added.
Pointing out that the commission had witnessed a huge number of youth voters (18, 19 years old youth) enrolling in the electoral list, Ramananda said such result shows that the Systematic Voters' Education and Electoral Participation (SVEEP) campaign is successful.
The commission will be issuing a free Electoral Photo Identity Card (EPIC) to the newly enrolled electors on January 25, the 11th National Voters Day which will be conducted in all the polling stations, offices of the DCs and EROs. Moreover some of the selected newly enrolled electors will be felicitated in the state function, said the joint CEO.   
Further announcing that e-EPIC will be launch on January 25, Ramananda said that e-EPIC will help in easing the electors in downloading and printing the voter card
Asserting that the election commission will continue the updating of electoral rolls throughout the year, he appealed to the left out people to enrol their name to get the voting rights.
Similar to the by-election the postal ballot facilities will be extended to electors who are marked as persons with disabilities and electors above the age of 80 years in the upcoming 2022 Assembly election.
ALSO READ
First Published:
Jan. 15, 2021, 4:14 p.m.