Churachandpur: Minister Rajen inaugurates new building of Singngat Govt High School, ZEO Office
The education minister assured to upgrade the Singnhat Govt. High School to the status of Higher Secondary.
---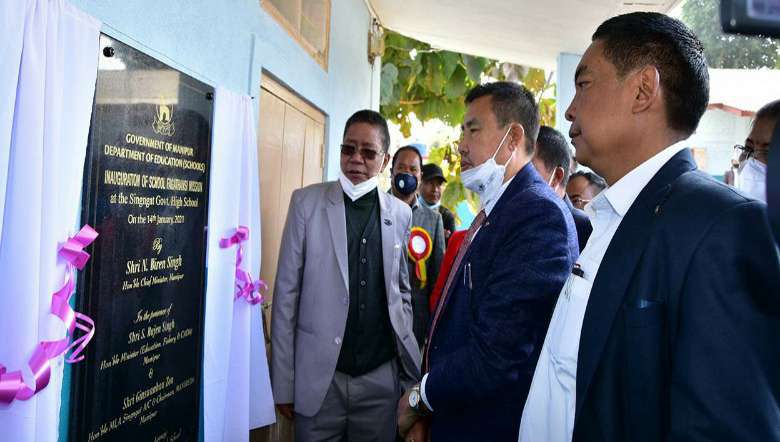 Education Minister S Rajen Singh has inaugurated new building of Singngat Govt High School and ZEO Office, Churachandpur today.
Speaking as chief guest at the inaugural function held at Singngat Govt High School, Rajen said  that, with the view to promote education sector particularly in the state, the state government has launched 'School Fagathansi Mission'. Under this mission infrastructures and buildings of selected government schools in different parts of the state have been improved and upgraded up to some extend during the recent months.
Regular inspection visits to government schools and colleges is being conducted, he added.
Beautification of buildings and improvement of infrastructures is also necessary so that the students and guardians can be attracted. To control the staffs and impart quality education is the responsibility of the head of the institute while keeping the school building attractive and providing adequate infrastructure is the duty of the government. This should be understood by the concerned officials and staffs, he added.
He said that depending on the availability of fund for education department, the government has issued work orders for renovation and providing infrastructures to selected schools and colleges on priority basis. Teaching and non-teaching staffs of school and colleges will be recruited soon in order to meet the requirement of staff. Notice has been served to recruit arts and science graduate, hindi graduate, pre-primary teachers etc. The result of the recruitment will be announced within a short duration, he added.
Natonal Education Policy, NEP, has also been introduced to bring quality education in the country. A Task Force has also been constituted for the successful implementation of NEP in the state. A mega conference will also be organized to discuss the prospects of the National Education Policy with reference to the state of Manipur in this current month, he added.
Minister also assured to upgrade the Singhat Govt. High School to the status of Higher Secondary. Minister also appealed the public to cooperate with the initiatives of the government towards improving education system of the state.
Vungzagin Valte, minister, TA& Hills, Transport and GAD, Ginsuhau Zou, MLA Singhat A/C & chairman MANIREDA shared the dais as special guest, functional president and guest of honour respectively during the inaugural occasion at Singngat.
Later minister Rajen inaugurated the newly constructed office building of Zonal Education Officer, ZEO office Churachandpur.
During the occasion Vungzagin Valte, minister, TA& Hills, Transport and GAD, MLA Churachanpur A/C, V. Hangkhanlian, Ginsuhau Zou, MLA Singngat A/C and chairman MANIREDA, L Nandakumar, IAS, shared the dais. The ministerial team also visited Churachandpur College, Lamka College, Churachandpur Higher Secondary School.
First Published:
Jan. 15, 2021, 9:51 a.m.