Government will not spare any persons involved in drug cases: CM Biren
A drug disposal function was held at Pungdongbam Chingmang under Lamlai police station, Imphal East.
---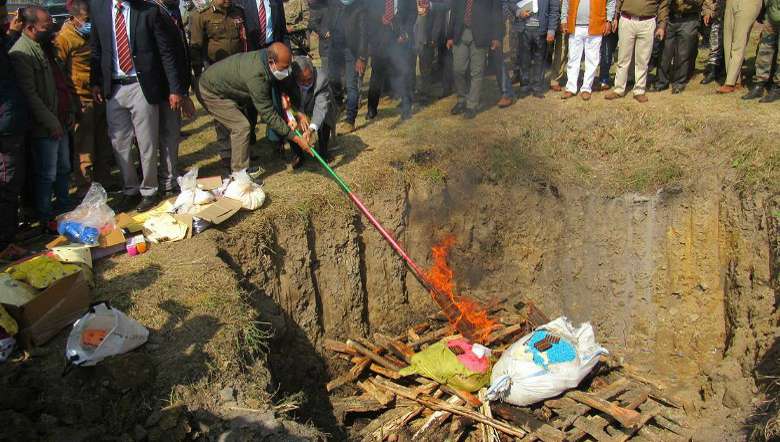 Any individual involved in drugs related cases will not be spared as the government is committed in its fight against drugs and other illicit elements and it will stand for truth, chief minister N Biren said on Thursday.
The chief minister was addressing the pre-trial drug disposal function held at Pungdongbam Chingmang under Lamlai police station, Imphal East.
Biren said the 'war on drugs' was initiated by the present government to root out drugs from Manipur and help protect the youths. The people analyzing its merits and demerits, is a good impact of the mission, he said. Those police personnel who are found involved in drugs related incidents will be terminated immediately instead of putting them under suspension, he further said adding there will be no biases in taking necessary action, Biren asserted.
He said that as a part of the mission, over 1,500 acres of poppy plants have been destroyed so far. The people should avoid humiliating the works on poppy destruction by posting comments on social media, he added.  
The police personnel are giving their best efforts in destroying the poppy plants but they may get demoralised due to the humiliating comments on social media, he added.
The government has already started giving alternative jobs to the owners of poppy farmers so that they can make their livelihood. He appealed to the people to help bring a transparent society while adding that positive suggestions to root out drugs are welcomed.
He mentioned that the government has opened a special trial court (ND and PS) to take up speedy trials on drug related issues. In the past, the people used to say that the police cannot conduct drives against drugs in Muslim inhibited areas but most of the Muslim communities are supporting the state police while conducting drives, he added.
The present government has conducted three pre-trial drug disposals, he said. The first disposal was conducted on November 30, 2017 where drugs worth about Rs 45, 75, 000 on international market were disposed, he mentioned. In the 2nd pre-trial, disposals were conducted on September 26, 2018 during which drugs worth about Rs 20, 42, 95,000 in international market were disposed, he said.
For the third pre-trial, drugs worth around Rs 34,12,09,00 were destroyed on Thursday. The drugs include heroin powder of 2 Kg 271 gm 535 mg; 273 kg 87 gm Ganja; 5,80,853 tablets of WY tablets; 1,22,696 spasmo proxyvon (sp) capsules; and 530 tablets of nitrosun-10 (N-10) tablets.
The drug items were burned and disposed of by chief minister N Biren.
First Published:
Jan. 15, 2021, 9:25 a.m.