Neroca FC confident of a winning start against TRAU FC in Hero I-League
Neroca FC will kick-start their Hero I-League campaign with an absolute cracker, as they gear-up to face their local rivals TRAU FC in the much-anticipated Imphal Derby on Friday
---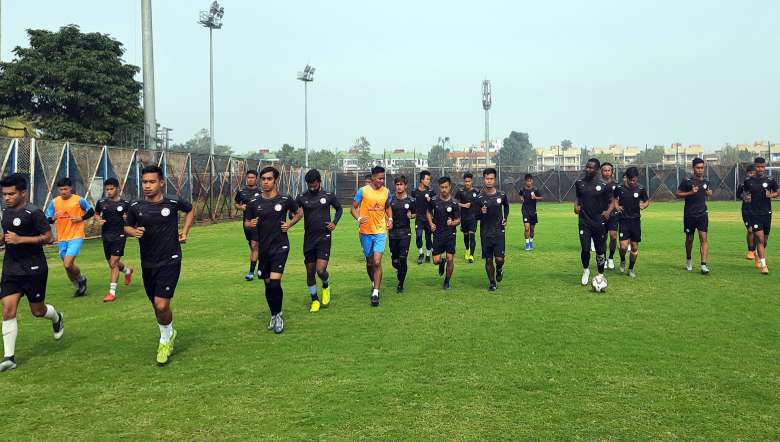 Neroca FC players gearing up for their match against TRAU FC in the Hero I-League 2020-21 (PHOTO: IFP)
---
Neroca FC will kick-start their Hero I-League campaign with an absolute cracker, as they gear-up to face their local rivals TRAU FC in the much-anticipated Imphal Derby on Friday, at the Kalyani Municipal Stadium in Kalyani, West Bengal.
The kick-off is slated for 7 PM IST and the match will be broadcasted live on 1Sports, whilst being streamed on their Facebook page.
Neroca FC would aim to start the season on a winning note and speaking at the official pre-match press conference, head coach Gift Raikhan agreed.
"We have to work hard and play for the win. It is a very big and important match for us against TRAU FC as it is a local derby. However, TRAU are a very good team and they will present us with challenges," said Raikhan. "Our strength is the youth that we have. They are strong and they are ready to go. However, they will take some time to settle in the Hero I-League and we aim to build match by match. The talent that we have is very good and we look forward to tomorrow."
Defender Varney Kallon said, "For any team starting with a win gives them confidence and a much-needed morale boost. We will aim for that as well although it is going to be hard as we will face TRAU in a derby match."
When asked about TRAU's Tajik import Komron Tursunov, who scored the fastest goal of the Hero I-League in 9 seconds, Raikhan said, "We have a plan to deal with him and although he is very good on the ball, we have an equally good defensive line. We will nullify him in front of goal."
After playing out a 1-1 draw against Real Kashmir where they had taken the lead, in their last match, TRAU will try to rectify their defensive errors against Neroca FC Head coach L. Nandakumar said, "We have to focus defensively. We cannot let go of the lead like in the last match."
"Neroca FC are always a difficult opponent to face and tomorrow's clash will be tough both mentally and physically. If we can maintain our rhythm, we can edge a positive positive result," said Nandakumar. "We are improving with every match and if we follow our game plan to perfection we can get the win."
Komron Tursunov would be hunting for another early goal in the Imphal Derby. Can he maybe beat his own record? He laughs, "I don't care who scores as long as we win. Goals are an important part of the game, but winning is more crucial for me. So it does not matter if we get the lead early or score in the 90th minute. The team should win and for tomorrow we will give our level best to get the three points."
ALSO READ: 
First Published:
Jan. 14, 2021, 8:44 p.m.