Churachandpur: 74th raising day cum general election of Siamsinpawlpi held
'A happy nation and happy family have no history'.
---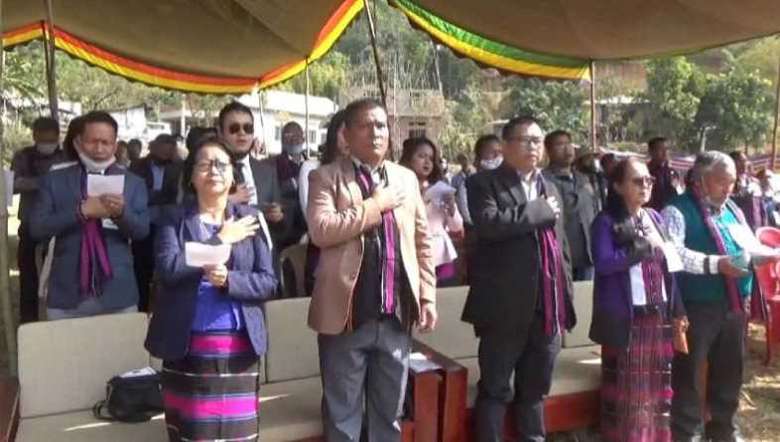 (Photo: IFP)
---
The Siamsinpawlpi (SSPP), a Paite student organisation, observed its 74th raising day and held general election at Tuithapi village, Churachandpur on Wednesday.
The programme was attended by MLA of Lengteng, Mizoram and chairman of SRDC, L Thangmoia as chief guest while minister of TA and Hills, Vungzagin Valte was the special guest. It was also attended by various other leaders from the Paite community.
On the occasion, meritorious awards were handed out by the chief guest. He also presented the winning certificate to the elected SSPP GHQ president, Thanglalmuan Hauzel.
L Thangmoia, who is a life member of SSPP and a gold medallist in Mathematics at NEHU, spoke about the need to look at the educational aspects beyond academics. Stating that 'a happy nation and happy family have no history', he said that God created problems and hardships and a nation or people who do not have problems will have no history.
He also expressed his hope that the Zo descendents, who are in various countries, will one day be under one umbrella and one administration.
"We have to be the unsung heroes who fight for the cause irrespective of being anonymous. We will see development and God will bless us," Thangmoia said. He also advised the SSPP not to meddle with politics and focus only on education.
Vungzagin Valte thanked the chief guest for coming all the way from Mizoram. He said that a student's life is all about study and further stressed that education brings certificates and does not grant jobs every time, however the knowledge and skills are always helpful.
Mentioning about the five impending EMRS residential schools and a medical college in the district, the minister exhorted the students to prepare hard so that they will get through in the institutes. He also said that Industrial Training Institute and Government Polytechnic are already in the district and the BEd Training Centre is in the process of being set up soon.
In the general election of SSPP held on Wednesday, the incumbent president was re-elected as his lone challenger has failed in scrutiny as per SSPP rule. Oath taking of the newly elected 17 foundation trust members was administered by the chairman of the Standing Committee of SSPP Ghq.
It may be mentioned that SSPP has four joint headquarters, at Shillong, Aizawl, Imphal and Delhi, and has nine blocks and 19 branches with 45 units. Under SSPP, loans are provided to students at zero interest rate, which can be paid back after they get a job.
The student organisation also runs a residential school at Ngathal, Churachnadpur, housing 600 underprivileged students.
 
First Published:
Jan. 14, 2021, 10:48 a.m.