'Awareness of drugs needs to be included in school syllabus'
"Selling of tobacco items and other anti social elements should be strictly banned from in and around colleges, institutions and schools."
---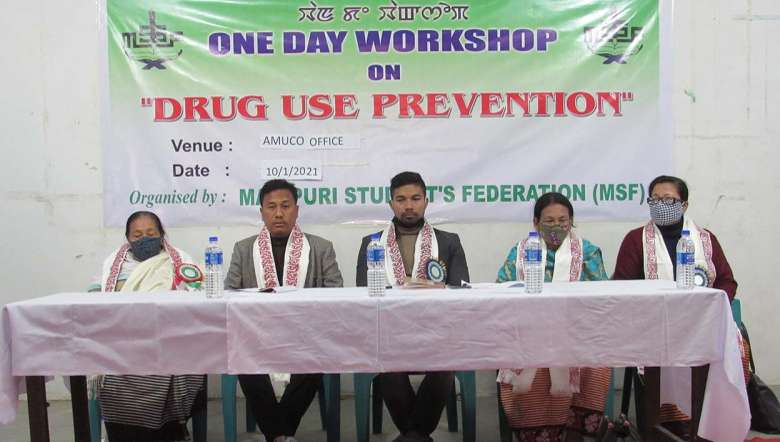 (PHOTO: IFP)
---
Lessons on drugs awareness need to be included in school syllabus to prevent students from falling victim to drugs, said president of Poirei Leimarol Meira Paibi Apunva, Manipur, Longjam Memchoubi during one-day workshop on 'Drug Use Prevention' cum prize distribution ceremony of state open online slogan competition on Sunday.
The occasion was organised by Manipur Students' Federation (MSF) at the head office of All Manipur United Club Organisation (AMUCO).
Memchoubi said that Manipur being an international border state located near the Golden Triangle, most youths of the state are falling victim to drugs. In the past, only male sections used to be victims of drugs but women are also becoming victims of drugs and intoxicants, she added.
To uproot the drugs menace from Manipur, a separate strategy to fight drugs and a firm determination need to be established, she further said. "Under an exclusive organisation, we can approach the Chief Minister N Biren to seek support for the activities carried by the organisation," she added.
Most drugs were made for medicinal purposes but some are abused, she said while adding some high level bureaucrats have been found involved in peddling of drugs in terms of crores of rupees, but none have been convicted though they have been arrested. The initiatives taken by MSF for a drug free society should be given support by all, she added.
Consultant, drug affairs MSF, RK Gunikanta said drug addicts did not wish to become what they are during their childhood but circumstances pushed them to become addicts. Both the adults and youths also need to act responsibly before they start giving advice to the upcoming generations, he added.
He said, to prevent drugs and other illicit elements, the people must start taking initiatives from their own homes first. Selling of tobacco items and other anti social elements should be strictly banned from in and around colleges, institutions and schools, Gunikanta added.
President of AMUCO, Pheiroijam Nando Luwang said Manipur can ban, and Manipur has done it before. During the initial stages of lockdown, no reports of deaths due to shortage of drugs were reported, he said. 
The authorities concerned need to highlight the importance of disposing drugs from time to time, he further said. People are raising issues on the acquittal of former ADC Chandel chairman, Lhukhosei Zou but instead, the society rather needs to cooperate and take action to root out drugs, he added.
Once Manipur was known for its rich culture, tradition and sports but it is becoming more popular due to the prevailing issue of drugs, said Nando.
He said there are two types of drugs smuggling; one which is transported passing through the state and other which is consumed by drug users of Manipur.
As a part of the function, the results of open online slogan competition were announced and prizes were distributed to the winners. President of All Manipur Women's Voluntary Association (AMAWOVA), Y Kunjarani and president of MSF, Sazad Bhuiyamayum also attended the function as presidium members.
ALSO READ: 
First Published:
Jan. 11, 2021, 1:27 p.m.