Mao Cherry Blossom Festival will give hope and inspiration to viewers across world amid tough COVID time: CM Biren
The CM said that though the Cherry Blossom Festival is a virtual event, this year's festival would provide an excellent platform for promoting tourism.
---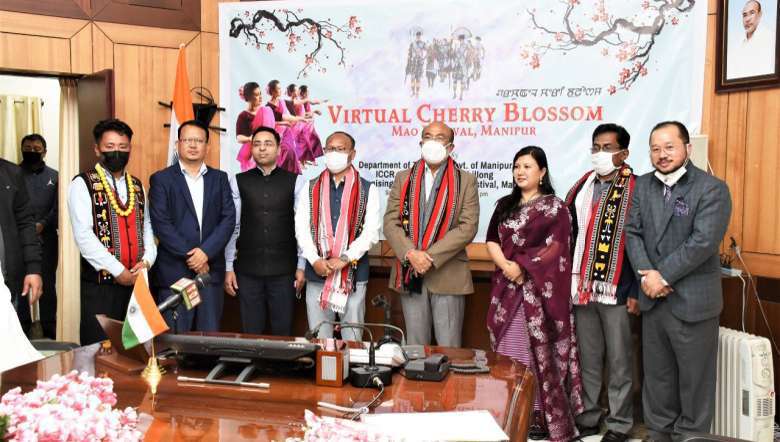 (PHOTO: Twitter/@NBirenSingh)
---
Manipur Chief Minister Biren Singh attended the virtual Cherry Blossom Mao Festival on Saturday and said it would give hope and inspiration to viewers around the world during this difficult Covid situation.
The festival, featuring the picturesque landscape of Mao town adorned with beautiful cherry blossom flowers, was streamed live from 2 pm on YouTube, Facebook, Twitter, Instagram and others. Colourful traditional dances and special ballet titled 'Cherry Nachom' were other attractions of the virtual event.
Addressing the viewers worldwide from the cabinet hall of Chief Minister's Secretariat, Imphal, N Biren Singh said that Mao is not only a major tourist destination but also a crucial hill station for reaching breathtaking tourist spots like Dzuko Valley and Mount Iso, the highest peak of Manipur and other places.
Stating that Dzuko is national wealth, the chief minister said that the wildfire that had ravaged the hill ranges of the area had been put out with the efforts of NDRF, Indian Air Force, SDRF state police, fire service, Forest department, district administration, village volunteers, MMTA, Assam Rifles and others.
He said that the Cherry Blossom Festival of Mao town has already been made a part of the Manipur Sangai Festival. Though it is a virtual event, this year's festival would provide an excellent platform for promoting tourism as everybody is constrained by the COVID-19 pandemic.
"The Cherry Blossom Festival in the coming years could be an international event and the state government is planning to invite delegates from countries like Japan where they also celebrate Sakura Festival," Biren said.
The Virtual Cherry Blossom Mao Festival was jointly organised by the Department of Tourism, Government of Manipur and Indian Council of Cultural Relations (ICCR), Shillong in association with Organising Committee Flower Festival, Mao.
The event was also attended by Tourism Minister Oinam Lukhoi, chairman of Tourism Corporation of Manipur Ltd (TCML), Ashab Uddin and commissioner (Tourism), Devesh Deval among others.
First Published:
Jan. 9, 2021, 9:05 p.m.