Won't be an easy outing against Aizawl FC, says Punjab FC coach Fleming
Fleming said the team is looking forward to the challenge and the clash on Saturday.
---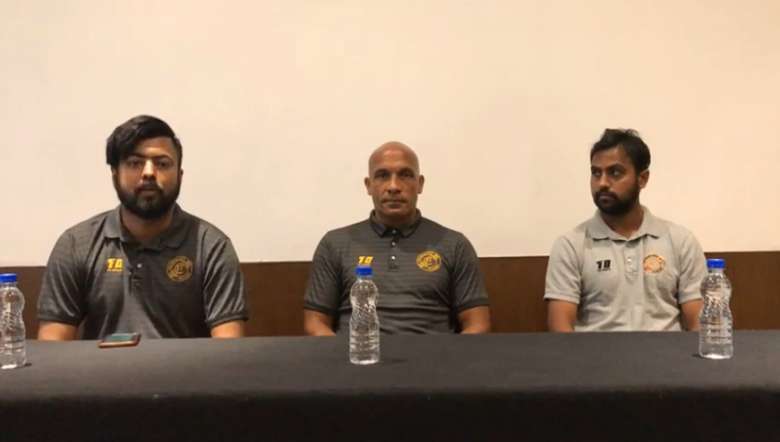 Punjab FC Head Coach Curtis Fleming (C) addresses official pre-match press conference
---
Aiming to throw their hat into the title contention right from the kick-off of the new season, RoundGlass Punjab FC gear up to fight for the win against Aizawl FC. The challenge, however, will be immense as Aizawl FC have plans of their own to rewrite their Hero I-League winning days and start the season on a positive note.
Speaking at the Official Pre-Match Press Conference, Head Coach of RoundGlass Punjab FC Curtis Fleming said, "Every game is important for us, and we have to try to win as many games as possible. We respect each and every team and each team provides its own set of challenges. We are sure that it will not be an easy outing against Aizawl FC."
"However, we are confident of ourselves and I am happy how the team is shaping up to be. We look forward to the challenge and the clash tomorrow," he added.
Captain Bikramjit Singh, sitting alongside, informed about the threat that Aizawl FC possess. "Aizawl FC are an excellent team and we have to be on our toes and give our cent per cent if we have to win the match," he said.
"It is a long season but we have to keep our eyes on the prize and continue to work hard each and every day. It is important to start a season on a good note and hopefully, we can do that," he added.
Meanwhile, Aizawl FC will look to forget their previous campaign, where they finished with just three wins from 15 matches, and hope to once again challenge for the title. Assistant Coach Gosen Rammawia stated, "The Hero I-League season is a long one and we hope to start with small steps and take it one match at a time. We have been preparing hard for the season and we would like to finish in a better position this time around."
"Each team provides its own sets of challenges and the clash on Saturday will not be easy for us. We are hoping to start the season on a good note, but we know that it will be a difficult match for us," he added.
Skipper Alfred Kemah informed, "The team has grown a lot and we have worked hard for the season ahead. We will take it one match at a time."
RoundGlass Punjab FC will clash against Aizawl FC at 4.00 PM IST on Saturday, January 09, 2021 at the Kalyani Municipal Stadium in Kalyani, West Bengal. The match will be broadcast live on the 1Sports channel.
First Published:
Jan. 8, 2021, 8:40 p.m.