CM Biren inaugurates ITI Sekmai, lays foundation stones for two women's markets
The Manipur government has already constructed women's markets in seven hill districts and has planned to construct 10 more women's markets in valley districts.
---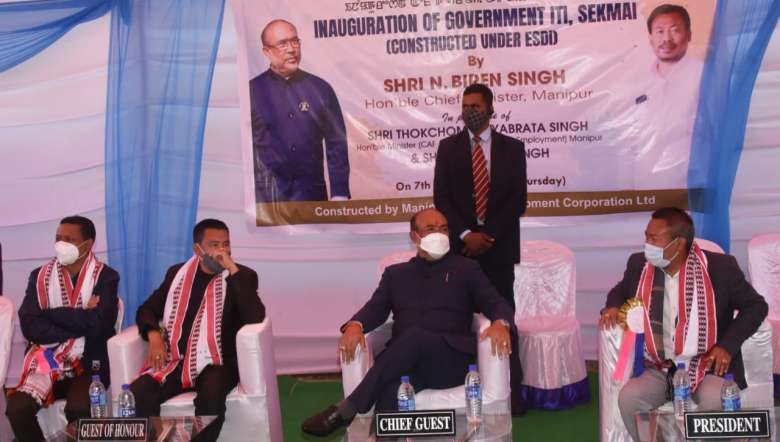 (PHOTO: Twitter/@NBirenSingh)
---
In continuation to the state government's initiative to bring inclusive development in the state, Manipur Chief Minister, N Biren Singh on Thursday inaugurated Industrial Training Institute (ITI), Sekmai and also laid the foundation stones for two women's markets at Sekmai and Kanglatongbi.
The ITI is constructed by Manipur Tribal Development Corporation Ltd under Enhancing Skill Development Infrastructure in North Eastern States (ESDI) while the implementing agency for the construction of the two women's market will be Manipur Police Housing Corporation Ltd (MPHC Ltd).
Speaking as the chief guest at the grand function held at Kanglatongbi, CM Biren recalled the responsibilities taken up by women of Manipur since time immemorial to safeguard the state in various circumstances. He continued that women could now contribute more towards the growth of the state's economy as the law and order situation has considerably improved.
The chief minister further said that under Prime Minister Narendra Modi's vision of women empowerment to protect and uphold the integrity of women, the state government has already constructed women's markets in seven hill districts. The government has planned to construct 10 more women's markets in valley districts of which foundation stones of five markets had been laid till on Thursday, he added. He also sought support from the locals of Sekmai and Kanglatongbi to avoid any disturbance during the construction so that the markets could be completely constructed within six months.
N Biren also informed that the situation of wildfire at Dzuko Valley has now been successfully controlled with the tireless efforts of the Central and state forces. He showed his gratitude towards Union Home Minister Amit Shah for his serious concern about the inferno and providing immediate assistance to the state's effort to contain it.
He also appealed to the public to access benefits from certain government schemes through authorities concerned and come up if there is any grievance so that it could be redressed at the earliest.
Meanwhile, state Forest Minister Awangbow Newmai said that bandhs and strikes have now become outdated and is not a proper channel for expressing one's grievances. Stating that the government is for the people, he appealed to the public to use proper channels in bringing up issues and problems to the authorities concerned.
Speaking on the occasion, MP of Rajya Sabha, Sanajaoba Leishemba stated that women of Manipur had played major roles in shaping the state since time immemorial and so the women's markets are being constructed as a mark of respect to them. He also appealed to the implementing agency to complete the construction as soon as possible to facilitate women vendors in their earnings.  
Delivering his presidential speech, chairman of Manipur Building and Other Construction Workers' Welfare Board and MLA of Sekmai AC, Heikham Dingo termed N Biren Singh as a true leader and said that under his leadership, the state had seen a considerable change in field of development in various sectors. He also expressed his thankfulness to the chief minister for including two markets of Sekmai assembly constituency in the state government's plan to construct 10 women's markets this year.
The function was attended by Education minister, Sorokhaibam Rajen; Tribal Affairs and Hills minister, Vungzagin Valte; Agriculture minister, Oinam Lukhoi; Labour and Employment minister, Thokchom Satyabrata; deputy speaker of Manipur Legislative Assembly, Kongkham Robindro; deputy chairman of State Planning Board, L Rameshwor; managing director of MHPC Ltd, C Doungel; commissioner (Planning), Devesh Deval; deputy commissioner and superintendent of police, Imphal West; officials of state government; and women of Sekmai and Kanglatongbi women's markets.
First Published:
Jan. 7, 2021, 10:13 p.m.